Mole-Like Bump on Dog's Lower Mouth Area
by Sheri
(NYC)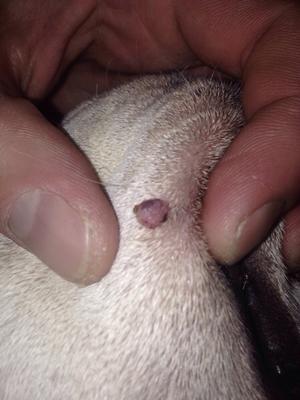 About 3 weeks ago our dog Truffle had a very little pink "pimple" near her lower left lip. It didn't look like anything to be concerned with.


In the last few weeks it has grown a lot! It now looks like a large mole. It's probably quadrupled in size.
It is pink with red spots. It's the size of an 1/8 in round bb. Though it is a little irregular in shape. It reminds me of a human skin tag in a way.
I wasn't alarmed until this past week. She's due for her yearly so I'll be taking her in next week. Unless this is serious. :( obviously worried. She is my first dog as an adult.
Her history: Truffle, a French Bulldog, she has always been very healthy. We have had her since she was 9 weeks old. She is a little over 2 now. We live in NYC and she's exposed to a lot of EVERYTHING! Lol
No issues until she was almost 2. She got an infection in her nasal folds. That was because I didn't know how to thoroughly clean her face. I know now!
4 months after that she got a skin infection because she had a little cut on the back of her foot from scratching her back feet after she uses the bathroom. It's on concrete and she does it too hard sometimes.
She got an antibiotic shot both times, she's been given malaket shampoo to wash the affected areas with 2 times daily when there's a problem then apply mupirocin 2% ointment after being washed. She's responded very well to this treatment.
The nasal fold issue cleared up right away. I clean her folds out with non scented baby wipes daily or every other day.
The skin infection- she had little crusty bumps around her mid section that would weep then bleed- (the most recent issue) responded very well. I did notice 2 months after her treatment she had 2 more very little ones that
never bleed.
I cleaned them with the shampoo and put the ointment on right away.
I always check her feet to make sure there are no cuts. If there are I clean it when we get home. I like to learn from my mistakes. Especially if it means I can avoid her getting sick by taking extra precautions.
I got a new couch within the last 2 months. I wipe her feet down with unscientific baby wipes after every walk. I would think that would be healthy for her since less of the NYC sidewalks are on her feet.
She has had some of the typical Frenchie issues. Sensitive tummy. We feed her wellness simple ingredients. Always the lamb or salmon formula. She has no issues with the food.
I started giving her angel eye chicken flavor. I think they say to give to high too high of a dose because she ended up getting slight diarrhea. That has gotten in check and she's been fine.
She also developed some hot spots on her front left leg. She was scratching that leg with her back leg a lot until the fur was worn at some spots. This was after her skin infection, but around the time I saw the 2 little spots a few months later.
I immediately started to wash it with the malaket shampoo and alternating hydrocortisone ointment and the mupirocin. I did that a little sporadically over 2 weeks and it cleared up and hasn't been a problem since (yay!)
The newest developments in the home have been the couch- she sleeps on a lot. I did treat it with stain resistant spray. And she sleeps where the radiator is (on the windowsill) all the time. I think that's actually may be affecting her eyes. She's much more teary than she has been in months.
I hope that is enough info. Please let me know ASAP if this is serious or if she can wait for her normal appointment.
Thank you!
Truffle's mom
Want to ask our veterinarians a question but haven't subscribed to My Online Vet? Click here to learn how or click here to go back to the Ask a Vet Online Library of questions.
Want monthly "News You Can Use" and important Organic Pet Digest new content updates? Click here to sign up for our FREE Dog Care Monthly newsletter.
Do you believe in holistic pet care? If so, please tell your friends about us with a Facebook like, Google +1 or via Twitter, Pinterest, email or good old fashioned word of mouth. Thank you for supporting our efforts!
For additional research, search for your topic...
Also see...
Disclaimers: The information contained in this web site is provided for general informational purposes only. It is not intended as nor should be relied upon as medical advice. Rather, it is designed to support, not replace, the relationship that exists between a pet owner/site visitor and his/her local veterinarian(s). Before you use any of the information provided in the site, you should seek the advice of a qualified professional.
In the spirit of full disclosure, we wanted to let you know that we proudly support this website through advertising and affiliate marketing. In other words, when you click on a link that takes you outside of this website, we often earn a small commission. These small commissions allow us to keep the site up and running and to continue offering it completely free of charge to you. Rest assured that all content, recommendations and advice are created before, and are independent of, any sponsorship or affiliate relationship.
Click here
for more info.