Itchy dog skin with rash and bald spots
by Boris
(Ontario)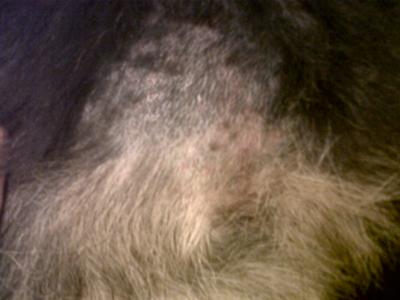 I have 1.5 years old German shepherd female and she is not spayed. She developed a red rash first when she was 8 months old. The vet said that it was skin infection and prescribed novolexin antibiotics. This helped and she was free of the stomach rash. Everything was good and she went into heat period.


Right after the heat period - 3 weeks after antibiotic treatment - the rash came back. She started to scratch and bite, creating bald spots, and then we put her on peroxin for 3 days. That took care of it, but it came back after 2 weeks.
We went to vet again and they said to treat her with advantage flea treatment but that it could be due to allergies to food (they didn't find any fleas).
So I came home she got treated for fleas. I cleaned everything in the house as well, and I also treated my other dog and a cat for fleas. I repeated the treatment again one month later. This didn't help at all.
I also changed her food that she has been on since she was born. I got holistic food for allergic dogs; I was advised to use three different types of holistic grain-free food and alternate them every 2-3 weeks (kind a cleansing for a dog). That didn't make any difference and she's been on her new food now for over 2 months.
Finally I decided to wash her with a mixture of peroxide and borax detergent that I used for my
first German shepherd (this treatment cured him from mange that he had on his eye).
24-36 hours after washing her she was getting better: no itching except increased itching on her ears. I didn't applied so much borax on head because it could hurt her if it gets in her eyes.
Everything was going good but after 3 weeks it came back she is scratching everywhere, but mainly biting and creating bald spots all over her point of rump and hips, and she has a mild rash on her stomach.
I shaved her hip just to get a better view for the photos. The rash there is red and it feels bumpy - almost like under-skin pimples. I am not sure if it is from excessive biting or...????
Her coat is nice and shiny (no dandruff). She is an indoor dog and she is very happy and full of energy.
I am getting ready to treat her with borax again, but I want to find a permanent fix to this because I feel that I am treating symptoms but underlying problem is not getting solved.
A month ago I started to boost her immune system by giving her olive oil and small amounts of garlic, plus one pill of 500 of C vitamin per week. In between she eats one apple a day, and she loves apples carrots and cod liver oil.
I was also treating her 4 months ago with organic cider vinegar by applying it to her skin. This helped with itching but nothing else.
Want to ask our veterinarians a question but haven't subscribed to My Online Vet? Click here to learn how or click here to go back to the Ask a Vet Online Library of questions.
Want monthly "News You Can Use" and important Organic Pet Digest new content updates? Click here to sign up for our FREE Dog Care Monthly newsletter.
Do you believe in holistic pet care? If so, please tell your friends about us with a Facebook like, Google +1 or via Twitter, Pinterest, email or good old fashioned word of mouth. Thank you for supporting our efforts!
For additional research, search for your topic...
Also see...
Disclaimers: The information contained in this web site is provided for general informational purposes only. It is not intended as nor should be relied upon as medical advice. Rather, it is designed to support, not replace, the relationship that exists between a pet owner/site visitor and his/her local veterinarian(s). Before you use any of the information provided in the site, you should seek the advice of a qualified professional.
In the spirit of full disclosure, we wanted to let you know that we proudly support this website through advertising and affiliate marketing. In other words, when you click on a link that takes you outside of this website, we often earn a small commission. These small commissions allow us to keep the site up and running and to continue offering it completely free of charge to you. Rest assured that all content, recommendations and advice are created before, and are independent of, any sponsorship or affiliate relationship.
Click here
for more info.