Infected Swollen Dog Eye Lid
by Marilyn Y.
(New York City, NY)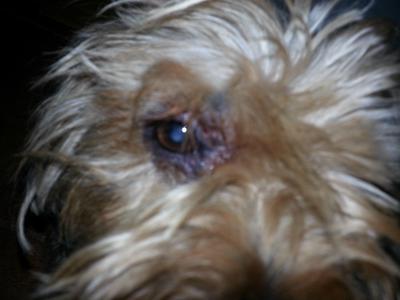 About 2 months ago, I noticed almost overnight that my dog's right top eye lid was swollen with some yellow (not blood) discharge coming out.


I treated him orally with herbal formula and topically with emu oil. After a few weeks I stopped emu oil when I no longer saw any discharge but continued herbal supplement for another month.
Eye got better to the point where I was almost going to stop supplement. A week ago, however, swelling came back, though not as severe as it was the first time.
The infection has also spread to the corner of the eye towards the lower eye lid.
I went to holistic pet store and got Colloidal Silver Spray and human grade natural supplement for allergies - Aller-DMG by FoodScience of Vermont. I am giving him 1/2 a tablet, twice a day in his food. I also spray Colloidal silver in his food as well as his drinking water.
Twice a day, I am cleaning his eye topically with Colloidal Silver on a cotton pad and once a day with emu oil.
Pet store consultant advised me to take him off all poultry products as a possible allergen as well as a Nutro Pro because it contains yeast. I now stick to lamb & beef flavors and a venison & sweet potato treat.
I've started this recent treatment for about 4 days, eye lid seems stable,
but sometimes sees some wet discharge coming from corner of eye. Pet store consultant thinks and I agree that my dog scratched his eye lid either with his nails or on something by accident and eye lid became infected. Eye lid healed well the first time, but once allergy season started this spring, he re-injured his eye lid.
Wost case scenario I will bring him to vet, but I prefer not to not because of money but because he is aggressive towards strangers, especially vets. He is a little bundle of 18lb terror/terrier when he sees strangers.
I also bought a bottle of calm formula to test on him just in case, but I was advised that it would be a 50/50 chance that it may work on him. I am skeptical that it will work at all.
Dog: Mixed Breed, Yorkie/Maltese/Shitz Shu
Age: 5 1/2
Gender: Male
Diet:
1. Dehydrated Raw (Stella & Chewy's brand) rotating flavors: Chicken/Beef/Lam/Duck/Surf&Turf
2. Dehydrated Raw (Only Natural Pet Store Brand) Turkey & Sweet Potato.
U.S.A. made Dehydrated Chicken Breast Treats
Zukes Dog Treats (various flavors)
Evo Dog Biscuits
Bully Sticks
Daily Supplements: Probiotic, NUPRO® All Natural Dog Supplement, Mercola Krill Oil, Mercola Mushroom Suppl
Vaccinations: Received all basic puppy shots including Rabies when he was 6 months old. Also neutered when he was about 6 months old. No vaccinations since that time, about 5 years ago.
Please advise...
Want to ask our veterinarians a question but haven't subscribed to My Online Vet? Click here to learn how or click here to go back to the Ask a Vet Online Library of questions.
Want monthly "News You Can Use" and important Organic Pet Digest new content updates? Click here to sign up for our FREE Dog Care Monthly newsletter.
Do you believe in holistic pet care? If so, please tell your friends about us with a Facebook like, Google +1 or via Twitter, Pinterest, email or good old fashioned word of mouth. Thank you for supporting our efforts!
For additional research, search for your topic...
Also see...
Disclaimers: The information contained in this web site is provided for general informational purposes only. It is not intended as nor should be relied upon as medical advice. Rather, it is designed to support, not replace, the relationship that exists between a pet owner/site visitor and his/her local veterinarian(s). Before you use any of the information provided in the site, you should seek the advice of a qualified professional.
In the spirit of full disclosure, we wanted to let you know that we proudly support this website through advertising and affiliate marketing. In other words, when you click on a link that takes you outside of this website, we often earn a small commission. These small commissions allow us to keep the site up and running and to continue offering it completely free of charge to you. Rest assured that all content, recommendations and advice are created before, and are independent of, any sponsorship or affiliate relationship.
Click here
for more info.