Infected Skin around My Dog's Eye
by Robert
(Camarillo, CA USA)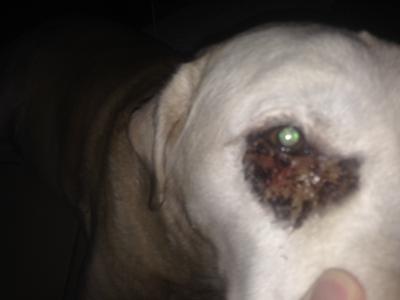 My Lab dog Junior developed an infection around his right eye (pictures attached). No hair is growing around the eye. It is like an open sore which will never heal. He's had it over 8 months.


Have taken him to many vets. Basic theme was he probably has an allergy caused by fleas, but he's not had fleas for most of the time and he's on flea medication (Trifexis). They gave me medication ointments which did not work (Neomycin and Polymyxin B Sulfates and Dexamethasone Ophtalmic, Neomycin and Polymyxin B Sulfates Bacitracin Zinc, and Hydrocortizone, and Vetropolycin). I have put OTC ointments on his eye for months. Nothing has worked.
The lesion (or whatever you call it) always develops a black scab for about 3 days and it will either fall of or come off when I wipe it off. It always comes back no matter what I do or the vets do. His eye doesn't seem to be infected but it causes him to blink a lot as the scab grows.
The infected area reacts to Hydrogen Peroxide but Alcohol does does not make the dog react.
The only ointment which "seemed" to have some early affect was the medicine with zinc but it didn't fix it.
None of the vets I have gone to seemed to know what it was. Only one vet said he's seen it before but he was very arrogant and I didn't trust him especially when he said it would take a large amounts of visits to fix it up. He also said it could be allergy related.
I am hoping you can point me to an OTC medicine or a prescription medicine or a treatment. Thanks --Bob
Want to ask our veterinarians a question but haven't subscribed to My Online Vet? Click here to learn how or click here to go back to the Ask a Vet Online Library of questions.
Want monthly "News You Can Use" and important Organic Pet Digest new content updates? Click here to sign up for our FREE Dog Care Monthly newsletter.
Do you believe in holistic pet care? If so, please tell your friends about us with a Facebook like, Google +1 or via Twitter, Pinterest, email or good old fashioned word of mouth. Thank you for supporting our efforts!
For additional research, search for your topic...
Also see...
Disclaimers: The information contained in this web site is provided for general informational purposes only. It is not intended as nor should be relied upon as medical advice. Rather, it is designed to support, not replace, the relationship that exists between a pet owner/site visitor and his/her local veterinarian(s). Before you use any of the information provided in the site, you should seek the advice of a qualified professional.
In the spirit of full disclosure, we wanted to let you know that we proudly support this website through advertising and affiliate marketing. In other words, when you click on a link that takes you outside of this website, we often earn a small commission. These small commissions allow us to keep the site up and running and to continue offering it completely free of charge to you. Rest assured that all content, recommendations and advice are created before, and are independent of, any sponsorship or affiliate relationship.
Click here
for more info.