Incessant Itching Dog Rash on Ears, Neck, Legs, Flank, Back, Abdomen
by Melissa
(Baltimore, MD)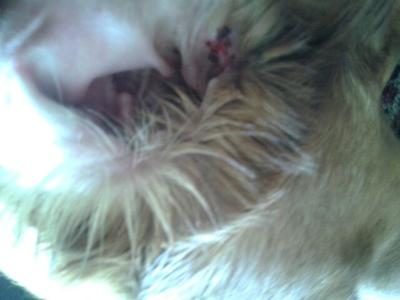 Ear with scabs
This is Charlie, my 5 year old red hound/lab rescue. He is usually in excellent health. However 2 weeks ago I noticed he started scratching constantly. I saw a flea on him months ago but he never itched that much so I wasn't concerned.


I don't vaccinate him anymore, I refuse to put poison on him, and he eats grain-free food with filtered water and raw eggs from my hens. I also give him fish oil on occasion.
We have a cat in the house as well, but the cat isn't itching.
About 5 days ago, in a bid to rid the animals and the house of what I thought were fleas, I powdered them and all of the carpets with food grade diatomaceous earth. I vacuumed it up the next day and gave him a bath with tea tree shampoo. Now, he is worse if anything.
I finally gave him Benadryl today to make him more comfortable (it worked, sort of). He's been snoozing more and itching less. However, once I started checking his fur out (which is difficult, it's thick), I found various bumps and small scabs.
It seems no part of his body is spared. He itches his back, stomach, legs, neck, ears, everything – all day and all night.
One last thing – Charlie has a strong prey drive and we regularly take him in to the woods. He sometimes tracks down badgers, etc. A few weeks ago he came across a dying fox which did appear to have some horrible mange – half of its fur was gone and it didn't even put up a fight when Charlie shook it by the scruff of its neck before my husband could get him away from it.
After the fox incident I took him home and scrubbed him head to toe, and then he didn't seem to have any problems, until recently. The only treatment besides diatomaceous earth was I rubbed coconut oil in his ears today because of the scabs. I was considering rubbing it into his fur.
Want to ask our veterinarians a question but haven't subscribed to My Online Vet? Click here to learn how or click here to go back to the Ask a Vet Online Library of questions.
Want monthly "News You Can Use" and important Organic Pet Digest new content updates? Click here to sign up for our FREE Dog Care Monthly newsletter.
Do you believe in holistic pet care? If so, please tell your friends about us with a Facebook like, Google +1 or via Twitter, Pinterest, email or good old fashioned word of mouth. Thank you for supporting our efforts!
For additional research, search for your topic...
Also see...
Disclaimers: The information contained in this web site is provided for general informational purposes only. It is not intended as nor should be relied upon as medical advice. Rather, it is designed to support, not replace, the relationship that exists between a pet owner/site visitor and his/her local veterinarian(s). Before you use any of the information provided in the site, you should seek the advice of a qualified professional.
In the spirit of full disclosure, we wanted to let you know that we proudly support this website through advertising and affiliate marketing. In other words, when you click on a link that takes you outside of this website, we often earn a small commission. These small commissions allow us to keep the site up and running and to continue offering it completely free of charge to you. Rest assured that all content, recommendations and advice are created before, and are independent of, any sponsorship or affiliate relationship.
Click here
for more info.