Immune Support for Dog with Autoimmune Disease
by Emily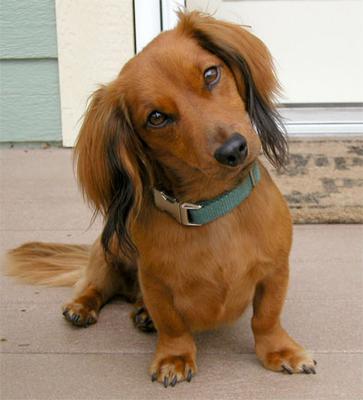 Got food?
Our 6.5 year old long haired mini doxie, Finn, suddenly got sick this Tuesday, vomiting, lethargy, refusing food. We took him to the vet and after blood work and x-ray of his abdomen they urged us to go to a 24 hour critical care vet.


He was diagnosed with Autoimmune Disease and put on steroids. After a few hours his red blood cell count was so low (14%) that he was given a transfusion. He now seems to be doing much better, eating, is lively. His red blood cell count is at 18-20% today, but he has vomited once and has diarrhea. He is being treated for both at the hospital and hopefully can come home tomorrow.
This is a lot of toxins for a 14 lb. little guy, but at least he's still with us. They don't know how he got sick as he was very healthy up till now, with the exception of a bad doxie back, which has been successfully treated with acupuncture, a series of injections to strengthen the disk, and lately, Dasuquin.
I suspect a Lyme vaccine shot mid-April might be the culprit. He had one last year with no ill effects but now that I've been reading up on it I shouldn't have had him get one in the first place.
I would like some advice on any herbs, treatments, etc you suggest to strengthen his nervous system while he is on the drug regime, and after he goes off it (hopefully that happens). Also any advice you have on his disease and his quality of life will be appreciated.
He is a very smart, loving sweet boy. He gets regular exercise, has indoor /gated outdoor area all day, and lives with his older biological sister (she's a healthy 10 year old).
He's been fed natural foods all his life-first Flint River kibble, then we switched to an organic raw chicken diet (Nature's Variety) this past year. We don't spray our lawn with chemicals, and he has good living accommodations (our house is doxie handicapped with mini ramps for the dogs, to avoid future problems).
Our finances are not unlimited, but we want to make sure that he has a good quality of life.
The photos are not recent, but they show his personality, and he looks the same.
Thanks so much!
Emily
Want to ask our veterinarians a question but haven't subscribed to My Online Vet? Click here to learn how or click here to go back to the Ask a Vet Online Library of questions.
Want monthly "News You Can Use" and important Organic Pet Digest new content updates? Click here to sign up for our FREE Dog Care Monthly newsletter.
Do you believe in holistic pet care? If so, please tell your friends about us with a Facebook like, Google +1 or via Twitter, Pinterest, email or good old fashioned word of mouth. Thank you for supporting our efforts!
For additional research, search for your topic...
Also see...
Disclaimers: The information contained in this web site is provided for general informational purposes only. It is not intended as nor should be relied upon as medical advice. Rather, it is designed to support, not replace, the relationship that exists between a pet owner/site visitor and his/her local veterinarian(s). Before you use any of the information provided in the site, you should seek the advice of a qualified professional.
In the spirit of full disclosure, we wanted to let you know that we proudly support this website through advertising and affiliate marketing. In other words, when you click on a link that takes you outside of this website, we often earn a small commission. These small commissions allow us to keep the site up and running and to continue offering it completely free of charge to you. Rest assured that all content, recommendations and advice are created before, and are independent of, any sponsorship or affiliate relationship.
Click here
for more info.