Horrific Rash on Dog's Underbelly
by Julie F.
(Port Charlotte, FL )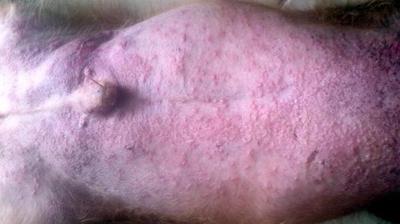 Belly Rash
Every summer our dog Roscoe gets contact dermatitis on his underbelly - we think it's from mushroom spores, we get a lot of rain here in the summer. Our regular vet thinks it's from his raw diet (he is a proponent of kibble and blames everything on that) and wants me to treat him with steroids and antibiotics.


We've kept it bearable by putting him in a t-shirt, giving him Benadryl, bathing him weekly, and using Bragg's apple cider vinegar, coconut oil, aloe vera, colllodial silver to cover the rash.
A few weeks ago, he scratched his belly on the concrete around the pool until it bled. I cleaned it well with Bragg's and covered it in coconut oil, and we bathed him in Malaseb and alternatively sprayed him with a holistic Tea Tree Oil/Aloe combination & ChlorHex 2x 4% spray and it got a lot better.
Then about a week ago, it suddenly got much worse & nothing was really helping. Yesterday I gave him a warm bath with Epsom salt and oatmeal. Afterwards I patted him dry and wiped his belly down with organic witch hazel (hoping that that would take more of the itch out), rubbed on some coconut oil and put him in his t-shirt and shorts that I cut down from our grandson's old pj's.
Around 2 pm he went out for the first time today, so I took off his clothes and checked his belly and was absolutely horrified to find how much worse it was! See photos.
I did put in a call to my regular vet and I was trying so hard! to get this done before 4 but no such luck. We put his t-shirt back on, gave him 3 Benadryls and are praying for quick help!
Last night I sat him in the pool for a few minutes, then bathed just the affected area with Pramoxine Relief shampoo (Pramoxine + collodial oatmeal); dusted him with Gold Bond Powder and gave him 2 more Benadryls. Before bed we may put some aloe vera gel on it (if I can convince my husband that it would be safe!).
Roscoe is a raw fed, 25 lb., 5 year old, neutered male wire-haired dachshund. He thinks he's a Rottweiler and loves wrestling with our two other dogs who are 75 and 100 lbs. He also loves to cuddle and stick his tongue in your mouth (yuck!!) and he talks a lot. He's really a sweetheart but also our protector-when we go out, he's the only one barking & growling at passers-by to stay away.
Want to ask our veterinarians a question but haven't subscribed to My Online Vet? Click here to learn how or click here to go back to the Ask a Vet Online Library of questions.
Want monthly "News You Can Use" and important Organic Pet Digest new content updates? Click here to sign up for our FREE Dog Care Monthly newsletter.
Do you believe in holistic pet care? If so, please tell your friends about us with a Facebook like, Google +1 or via Twitter, Pinterest, email or good old fashioned word of mouth. Thank you for supporting our efforts!
For additional research, search for your topic...
Also see...
Disclaimers: The information contained in this web site is provided for general informational purposes only. It is not intended as nor should be relied upon as medical advice. Rather, it is designed to support, not replace, the relationship that exists between a pet owner/site visitor and his/her local veterinarian(s). Before you use any of the information provided in the site, you should seek the advice of a qualified professional.
In the spirit of full disclosure, we wanted to let you know that we proudly support this website through advertising and affiliate marketing. In other words, when you click on a link that takes you outside of this website, we often earn a small commission. These small commissions allow us to keep the site up and running and to continue offering it completely free of charge to you. Rest assured that all content, recommendations and advice are created before, and are independent of, any sponsorship or affiliate relationship.
Click here
for more info.