Holistic way to treat dog tumors?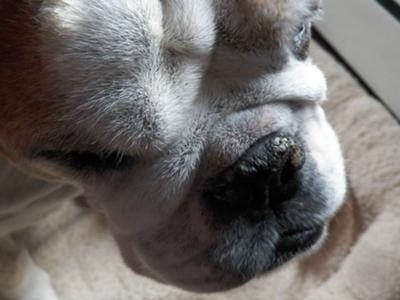 My 10 year old non-nuetered English bulldog has been diagnosed with t-cell lymphoma, although so far it doesn't seem like it has attacked his internal organs, just his skin.


To give you some background, Rex has had skin allergies his whole life (we got him at 10 weeks old). Based on his allergy testing, he is allergic to all types of grains, and also environment things like trees and grass.
After years of food trials and errors and medication trials and errors he has been on prednisone 5mg DAILY for years. In October 2011 he had a severe skin reaction, even being on the pred, and it took 2 months to diagnose calcinosis culus, and then wean him off preds get him on atopica and antibiotics based on the dermotologists recommendations.
His calcinosis was the priority and the lump on his toe was not so much of a concern - the vets thought it would clear up with the antibiotics and antifungal treatments. It did not, and although his calcinosis has improved dramatically and his hair has grown back, we ended up having to have his toe removed (Jan 18, 2012) and 2 other small lumps removed on his skin, all the same malignant cancer.
His foot got infected, so we are still giving him antibiotics and soaking his foot in betodine now only once daily (we were doing twice, but the vet saw an improvement in the infection last Monday). We are still keeping his foot wrapped so he doesn't lick it and get it re-infected.
The vet did an aspiration
of his foot last Monday and said she found cancer in the swelling. She reviewed all this with an oncologist and offered us to see the oncologist, but we do not want to do chemo for Rex.
Right now it is just about keeping him comfortable until we have to make that terrible decision and have arranged for a nearby vet to come to our home, when the time comes.
My question is that Rex has a couple of tumors (pictured above) and I want to know if there is something I can put on them so they don't ulcerate, or is there something I can put on them if they do ulcerate? Or once they ulcerate, do we just put him down - is he at pain at that point?
Right now he has been back on prednisone for 2 weeks, the tumors seem to have slowed their growth pace and one looks smaller. The one on his nose appeared January 18 2012 and the first pic I took of it was Jan 27 2012.
You will notice in the second picture right under his left nostril there is a tiny red bump that looks like a pimple, but I am sure it is another tumor that is starting to grow and I would like to know if I could use something to stop it. I read castor oil could work, but am hesitate to use anything that I can not verify with a vet.
He is eating natural balance limited ingredients potato and duck dry food.
Thanks so much for your help.
Want to ask our veterinarians a question but haven't subscribed to My Online Vet? Click here to learn how or click here to go back to the Ask a Vet Online Library of questions.
Want monthly "News You Can Use" and important Organic Pet Digest new content updates? Click here to sign up for our FREE Dog Care Monthly newsletter.
Do you believe in holistic pet care? If so, please tell your friends about us with a Facebook like, Google +1 or via Twitter, Pinterest, email or good old fashioned word of mouth. Thank you for supporting our efforts!
For additional research, search for your topic...
Also see...
Disclaimers: The information contained in this web site is provided for general informational purposes only. It is not intended as nor should be relied upon as medical advice. Rather, it is designed to support, not replace, the relationship that exists between a pet owner/site visitor and his/her local veterinarian(s). Before you use any of the information provided in the site, you should seek the advice of a qualified professional.
In the spirit of full disclosure, we wanted to let you know that we proudly support this website through advertising and affiliate marketing. In other words, when you click on a link that takes you outside of this website, we often earn a small commission. These small commissions allow us to keep the site up and running and to continue offering it completely free of charge to you. Rest assured that all content, recommendations and advice are created before, and are independent of, any sponsorship or affiliate relationship.
Click here
for more info.