Holistic Treatment for Dog Eye Pannus
by Susan
(Massachusetts)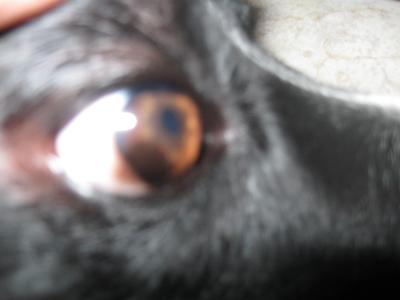 Dog Eye Pannus #1
My 18 month old Border Collie "Bennie" was recently diagnosed with dog eye pannus (see attached photos). The dark brown spot is at the 8 o'clock- 9 o'clock (5mm) on his right eye.


Longterm prognosis/treatment: Immunomodulatory treatment for both eyes for the rest of his life.
Prescriptions: NEOPOLYDEX & TACROLIMUS.
Seen by OPTHOMOLOGIST on April 23, 2013.
Bennie seems to have no discomfort. His eating and playing is normal.
He has a history of a dog attack 6 months ago causing a emergency visit and "stitches" were given under the same right eyelid. At that time there was no concerns mentioned about Bennie's eyeball itself.
The Opthomologist office noted that this was not a genetic factor but a immunity factor.
I am interested in the holistic approach of healing for Bennie and whether you think he will NEED to and MUST be on Pharmaceutical drugs his whole life as recommended by Optomologist/Vet.
I would like recommendations on immune supplements, vitamins, food, and if there is a cause/reason for his immune system attacking his eye area. If these are needed please provide exact dosage requirements.
He has a scheduled return visit to the Opthomologist in 3 months.
Bennie is a Black and white Border weighing 48 lbs. at this time.
Thank you for your help in this matter... we want the best for Bennie!
Sincerely, Susan
P.S. I am very aware of the chemicals that exist in soo may foods, environmental products, and toy products. Please advise on this too.
I would also like to know if there is chemical allergen testing for canine.
Want to ask our veterinarians a question but haven't subscribed to My Online Vet? Click here to learn how or click here to go back to the Ask a Vet Online Library of questions.
Want monthly "News You Can Use" and important Organic Pet Digest new content updates? Click here to sign up for our FREE Dog Care Monthly newsletter.
Do you believe in holistic pet care? If so, please tell your friends about us with a Facebook like, Google +1 or via Twitter, Pinterest, email or good old fashioned word of mouth. Thank you for supporting our efforts!
For additional research, search for your topic...
Also see...
Disclaimers: The information contained in this web site is provided for general informational purposes only. It is not intended as nor should be relied upon as medical advice. Rather, it is designed to support, not replace, the relationship that exists between a pet owner/site visitor and his/her local veterinarian(s). Before you use any of the information provided in the site, you should seek the advice of a qualified professional.
In the spirit of full disclosure, we wanted to let you know that we proudly support this website through advertising and affiliate marketing. In other words, when you click on a link that takes you outside of this website, we often earn a small commission. These small commissions allow us to keep the site up and running and to continue offering it completely free of charge to you. Rest assured that all content, recommendations and advice are created before, and are independent of, any sponsorship or affiliate relationship.
Click here
for more info.