Best Heated Dog Bed Choices
on the Market
Buying a heated dog bed for your furry companion can provide much needed therapeutic relief, whether it's a young puppy or an aging senior. Studies show that heated dog beds relax and ease sore muscles, calm aching joints and are a safe and relaxing resting place for your dog
Whether you are searching strictly for the warmth and comfort factor or you have an aging dog that could benefit from heat therapy, you have come to the right place!
We blanketed the web (no pun intended) to find the best of the best heated dog beds on the market to ensure that your dog has a safe, cozy and therapeutic sleep spot. We narrowed down our choices to the following, and you can't go wrong with any of them.
Here's a high level overview of our top 4 picks. Click the links to jump down to the full reviews…
PetSafe Heated Wellness Sleeper
Upon moving into a new home with an old style furnace and chilly wood floors, we quickly noticed our dog's desire to sleep right next to the one and only heat source. We had never seen our dog seek out heat prior to this move, so we figured that a heated dog bed could be a great option for her during the cold winter months.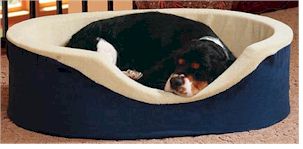 Needless to say, the heated dog bed has been a great success and she is no longer finding solace by the old metal floor vent.
If you're in the market for a heated dog bed that also provides an orthopedic foam sleeping surface, then the Petsafe Heated Wellness Sleeper is a great option.
This bed is a bolster style bed, which means it has a supportive ring around the cushion providing a protected "den" feeling and also a supportive headrest for your dog.
The center cushion is made from a "memory foam" type of orthopedic material, perfect for an aging dog with sore muscles and joints. The supportive cushion also provides your pet with a low level of therapeutic heat which powers itself from a chew resistant cord.
The PetSafe Heated Wellness Sleeper comes in three sizes and colors:
Small Green 23"L x 18"W x 8"H
Medium Blue 28"L x 21"W x 8"H
Large Tan 36"L x 24"W x 8"H
It also has a washable cover made from a plush cotton material.
The price tag ranges from $52.99 - $76.99 depending on size.
Click here to purchase the PetSafe Heated Wellness Sleeper.
All Season Heated and Cooled Pet Bed
This heated and cooled pet bed was featured on the CBS Early Show in July of 2008 and is also DOGFANCY Magazine's 2008 Editors' Choice Winner. It is a quality pet bed and has great features your dog is sure to enjoy.
The All Season Heated and Cooled Pet Bed is different because it operates on an interchangeable bedding system, allowing you to alternate bed inserts for the summer and winter months.
It makes a lot of sense for many dog owners to purchase a bed that has both hot and cold therapy. It gives you a great bang for your buck, and comes with a 2-year warranty so you really can't go wrong.
This bed has a number of great extras as well...
Comes with a cool bed insert with award winning cooling power
Termo-bed pillow insert internal dual thermostats keep the temperature at a comfortable 102 when in use.
All covers are removable for washing
Available in 2 sizes

Medium- 26" x 20" oval shape
Large- 31" x 24" oval shape

Available in two colors
Recommended for year-round indoor use
Plugs into a household electrical outlet
Limited two-year warranty
If you go with this one, we also recommend that you spend the extra monety to purchase a TopDawg Pet Cord Protector which prevents your dog from chewing on dangerous electrical cords.
The price of this bed ranges from $89.95 to $109.95 based on size.
12v Heated Pet Blanket for Home and Auto
If your dog likes to cuddle up in your throw blankets, just wait until they get their paws on this specialty heated pet blanket! This soft and comfy heated pet blanket is made especially for animals and is completely safe for use at home or on the go.
One quick note regarding heated blankets: Do not simply donate your existing heated blanket to your dog. Heated blankets made for human use can reach temperatures exceeding the comfortable and safe maximum of 102° for dogs.
Human heated blankets are also designed to lie on top of our bodies while the specialty heated pet blanket is safe for a dog to lie on or cover up with.
This heated pet blanket is stylish and easy to use. But, it is important to remember to unplug the heated pet blanket when you leave home!
This pet blanket has some great qualities listed below:
Warms to a comfortable and safe 102°
Great for pet friendly travel - Includes a 12v auto adapter for use in the car
Plugs into 110v household outlet
Indoor use only
Washable
Available in two sizes and two colors

24" x 36" Rust/Cream
54" x 36" Mocha/Cream

UL listed to ensure safe operation
Limited one year warranty
Depending on which size you choose, the price of the Heated Pet Blanket ranges from $64.95 to $94.95.
As with the bed above, we also recommend that you spend the extra $11.00 to purchase a TopDawg Pet Cord Protector to prevent your dog from chewing on dangerous electrical cords.
Snuggle Safe Microwave Heat Pad Dog Bed Heaters
Purchasing a product such as the Snuggle Safe Heating Pad Cover is an economical and simple way to add heat therapy to your dog's current bed.
The small 8 ½ inch heater can be placed in the microwave for 5 minutes and in turn will provide up to 12 hours of heat for your dog's bed. These dog bed heaters are great because they can go just about anywhere with you and your dog and it can be removed when it's no longer needed!
The dog bed heaters come with a cute dog cover (see image above) that could make the perfect cuddle companion for your new puppy who is missing its litter mates. It's also extremely safe for your dog because it will never reach excessive temperatures and has no wires to be concerned with.
The Snuggle Safe Microwave Heat Pad is the perfect addition to your dog's bed, especially if you're looking to save some money versus buying a brand new bed.
It can be purchased for $24.99 including shipping costs.
Do you believe in holistic pet care? If so, please tell your friends about us with a Facebook like, Google +1 or via Twitter, Pinterest, email or good old fashioned word of mouth. Thank you for supporting our efforts!
New! Comments
Have your say about what you just read! Leave a comment in the box below.
For additional research, search for your topic...
Disclaimers: The information contained in this web site is provided for general informational purposes only. It is not intended as nor should be relied upon as medical advice. Rather, it is designed to support, not replace, the relationship that exists between a pet owner/site visitor and his/her local veterinarian(s). Before you use any of the information provided in the site, you should seek the advice of a qualified professional.
In the spirit of full disclosure, we wanted to let you know that we proudly support this website through advertising and affiliate marketing. In other words, when you click on a link that takes you outside of this website, we often earn a small commission. These small commissions allow us to keep the site up and running and to continue offering it completely free of charge to you. Rest assured that all content, recommendations and advice are created before, and are independent of, any sponsorship or affiliate relationship.
Click here
for more info.