Head tremors in dog
by Jacquei Morea
(Santa Ynez, CA)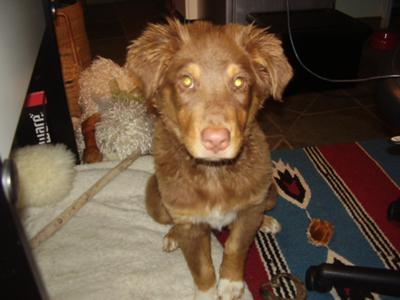 About 4 days ago my dog Pono began having head tremors. The first time I saw it, I thought I was seeing things. We were driving in the car, and his head started doing the tremor thing.


His eyes remain clear and the rest of his body is fine. The longest tremor was about 8 minutes long. I have only seen his head tremor when he is relaxing, and laying down.
It does not seem to bother him at all.
Pono is a male Australian Shepherd/border collie. He is almost 16 weeks old. I picked him out at 3 weeks, brought him home at 8 weeks. He is brilliant and active.
I have him on Canidae lamb and rice all stage formula dry dog food, and I give him a few tablespoons of wet dog food. He now likes to eat twice a day.
I exercise him a lot. I work with horses, and he is learning to keep up with them. I take him on short slow rides, occasionally longer rides, but most of his exercise is on foot on trails and the beach (in Carpinteria, CA).
He has not had any injuries. He has had all his parvo shots (the third one I gave him Nov. 1, 2011). I also put Advantix on him. He is due soon to have the rabies.
As far as how it happened, he pulls a lot on the leash around other dogs, and I wonder if he has a pulled a muscle and it spasms when he rests. Being a puppy, it's possible he could have eaten something along the way, but not to my knowledge.
There is a lot of tar on the beach and it smells like oil to me. He just recently became fascinated with the water. He never drinks it but does go in it. My gut feeling is that he is toxic.
He is a brown nosed/pink skinned tri sable color. He is very itchy, even though he has no fleas. I began giving him some coconut oil in his food. His skin looks fine though. I am wondering if he may have an allergy to his food (grains) or toxins in his liver?
I personally am under a lot of stress, and he could be sympathetic to me.
But everything I have looked up on the internet is inconclusive. I have called my vet and await her call, but in the meantime, I am more interested in the holistic approach.
Thanks for your help,
Jacquei Morea
Want to ask our veterinarians a question but haven't subscribed to My Online Vet? Click here to learn how or click here to go back to the Ask a Vet Online Library of questions.
Want monthly "News You Can Use" and important Organic Pet Digest new content updates? Click here to sign up for our FREE Dog Care Monthly newsletter.
Do you believe in holistic pet care? If so, please tell your friends about us with a Facebook like, Google +1 or via Twitter, Pinterest, email or good old fashioned word of mouth. Thank you for supporting our efforts!
For additional research, search for your topic...
Also see...
Disclaimers: The information contained in this web site is provided for general informational purposes only. It is not intended as nor should be relied upon as medical advice. Rather, it is designed to support, not replace, the relationship that exists between a pet owner/site visitor and his/her local veterinarian(s). Before you use any of the information provided in the site, you should seek the advice of a qualified professional.
In the spirit of full disclosure, we wanted to let you know that we proudly support this website through advertising and affiliate marketing. In other words, when you click on a link that takes you outside of this website, we often earn a small commission. These small commissions allow us to keep the site up and running and to continue offering it completely free of charge to you. Rest assured that all content, recommendations and advice are created before, and are independent of, any sponsorship or affiliate relationship.
Click here
for more info.