Hair not growing back on itchy skin
by Wei Ling
(Singapore)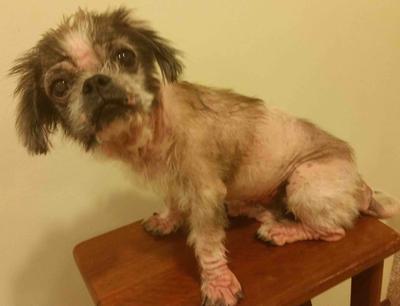 April 2015 Whole body
Dear Dr Tillman,


Hope everything is well for you. I need to seek your help for Xuan Xuan again. Everything has been well for her for the past 3 years though the hair in areas such as the base of her tail, under armpit and back of her ankles never really grew hair. Once in a while, she will scratch the area around her eyes, one patch on her lips etc and the area will be red and without hair for a while but the hair eventually grows back.
However, last august she had a outbreak where she scratches till the entire body is a quite inflamed though not till it bleeds and is swollen. I brought her down to a vet that my other adopted dog is currently seeing which is a conventional vet who is also trained in holistic medicine. She has seen this vet in September 2013 as I wanted her to go through the Bioresonance Allergy Test that my other young adopted dog went through. The vet recommended her current diet with supplements and suggested I continue to monitor her skin situation. But this time the vet gave a dose of steroid (prednisolone) for a week waned off over another week. It clears the outbreak and Xuan Xuan is back to her original condition after a month or so.
I don't know whether it is related. My other dog who is a 2 year old mongrel had a demodex outbreak in December. He nearly passed away at 3 months and has a very weak immune system since. I applied and massage tea tree oil in every alternate day and moisturize with shea butter to my mongrel. It cleared in about a month. This is not the first time he had it. Previously, it does not seems to affect Xuan Xuan.
However, in January this year, Xuan Xuan who is 8 years old by now, scratches her body and bites her feet. On the scale of 10, I would say her itch level is about 5. Not very very high and not non-stop scratching. However, her hair
does not seems to grow back.
By February, her hair is patchy. So in March, I decided to shave her so that I can apply Coconut oil evenly and bathe her more often. However, since shaving her about 4 weeks ago, the hair doesn't seems to grow back very fast. I am at a loss what to do next.
Skin Observation
Her skin is still generally quite cool and not hot like I start consulting you 4-5 years ago. The area that she scratches turns red but is ok after a while. When she scratches, the area is a little damp. But she is not scratching, the skin is relatively dry. She still doesn't smell too bad after a week of bathing although I try to bath her every few days these few weeks.
Current diet and Supplement
She is still on home-cooked food – beef, potato and vege in 1/3 proportion twice a day. She is on the following supplements:
1. Natural Calcium Powder (Red Seaweed)
2. Skin and Coat Supplement (Recommended by the vet)
3. Extra Virgin Coconut Oil
4. Apple Cider Vinegar
I have stopped immuplex and antronex (which the bioresonance test shows intolerant) two years ago.
Alternative Medicine and Oil and Shampoo
1. Tea Tree Oil (50% dilution with Fractionated Coconut Oil). She stopped scratching immediately when it is applied to her hotspot when she is scratching. But I dare not apply too often or too much as it dries her skin and I make sure I apply coconut oil at the same time. I use tea tree oil to manage her skin these few years.
2. I tried different essential oil these few month – Myrrh, lavender, bug off (mix) but none seems to smoothen her skin
3. She is now on Epi-smooth Oatmeal Shampoo and Conditioner
I tried giving Xuan Xuan Sulphur 1m in feb and mar, a month apart. But didn't see much effect – neither improvement or aggrevation. Maybe also because it has expired?
Please do advice what I can do. There really isn't any holistic vet in Singapore I really can rely on.
Want to ask our veterinarians a question but haven't subscribed to My Online Vet? Click here to learn how or click here to go back to the Ask a Vet Online Library of questions.
Want monthly "News You Can Use" and important Organic Pet Digest new content updates? Click here to sign up for our FREE Dog Care Monthly newsletter.
Do you believe in holistic pet care? If so, please tell your friends about us with a Facebook like, Google +1 or via Twitter, Pinterest, email or good old fashioned word of mouth. Thank you for supporting our efforts!
For additional research, search for your topic...
Also see...
Disclaimers: The information contained in this web site is provided for general informational purposes only. It is not intended as nor should be relied upon as medical advice. Rather, it is designed to support, not replace, the relationship that exists between a pet owner/site visitor and his/her local veterinarian(s). Before you use any of the information provided in the site, you should seek the advice of a qualified professional.
In the spirit of full disclosure, we wanted to let you know that we proudly support this website through advertising and affiliate marketing. In other words, when you click on a link that takes you outside of this website, we often earn a small commission. These small commissions allow us to keep the site up and running and to continue offering it completely free of charge to you. Rest assured that all content, recommendations and advice are created before, and are independent of, any sponsorship or affiliate relationship.
Click here
for more info.