Hair Loss & Itchiness on Dog's Mouth and Around Eyes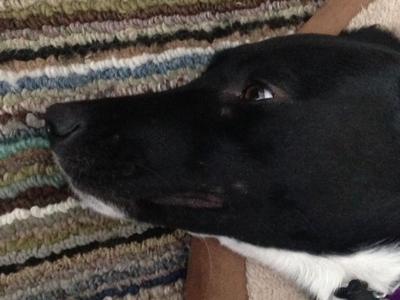 Hair loss
When I got my dog, she had a spot below her left eye which had some hair loss, but she was otherwise super healthy so I thought nothing of it. She is a 2ish-year-old spayed female black lab mix who I adopted about three months ago from a shelter where she had been for two months after being surrendered along with another dog.


Before long, I was noticing her scratching her face pretty intensely on the carpet -- rubbing her chin and the sides of her face and groaning, totally "in the zone" with a glazed-over look.
She now scratches her chin and the sides of her face every day, multiple times, along with rubbing her eyes with her paws. She occasionally itches other parts of her body, but not very much.
It definitely is localized to her eyes, snout, and chin, although she also has one small hairless, flaky spot on one of her legs which doesn't seem to irritate her. Since I got her, she has developed some hair loss at the corners of her mouth and around her eyes.
She itches really intensely first thing in the morning, right after she wakes up, and then also periodically throughout the day -- sometimes after eating, or after waking up from a nap, or just randomly.
Her appetite, energy level, and urinary/defecation behaviors are pretty normal, although her stool is often a bit lighter in color and softer than I think of as ideal -- though only slightly.
She occasionally sneezes after rubbing her face on the carpet, and she also occasionally has a "reverse sneezing" fit, usually while she's been sleeping or after eating/drinking. Her coat is fantastic, just a little dandruff if she hasn't been brushed recently.
She's been eating grain-free, chicken-based dry food, which is different from what she was eating at the shelter (Iams, I think). I try to keep her treats to grain-free, too.
She has been getting one fish oil pill per day, though I just discovered that this isn't nearly enough to make a difference (they only have 300 units of the "good" stuff, so I've upped it to three pills per day, but this only happened a couple of days ago). I also recently started adding a spoonful of plain yogurt and canned pumpkin to her dry food in hopes of strengthening her digestion.
I have taken her to the vet, who did a skin scraping of the
eye spot and her chin and found nothing -- no yeast, no mites. She suggested the problem is allergies, probably seasonal.
I live in Wisconsin, where it has been well below freezing for weeks now, and the problem persists.
At the vet's suggestion, I gave my dog Benadryl for a couple of weeks, two tabs 3x/day (she's 50 lbs), and it didn't seem to have a huge effect -- she might have been slightly less itchy, but it also made her more tired, and she doesn't itch when she's asleep, obviously.
The vet's next suggestion was predisone, but I am very reluctant to put my dog on steroid treatments and so am hoping to manage this in other ways. She also suggested doing a topical treatment for mites, even if they didn't show up in the scraping, just to cover all bases. I have not done this yet.
As I mentioned, we live in Wisconsin, where there has been a snow covering and very cold temperatures for quite some time now -- long enough that I would expect an improvement if it was a seasonal allergy.
However, we go for walks twice a day, and more often than not my dog gets let off leash, and one of her favorite activities is rooting around in and eating junk she finds in the woods, and a few inches of snow doesn't stop her from doing this, so I guess it's possible that she is still coming into contact with allergens under the snow.
At this point, it seems to me like it's an indoor or food issue, or something unrelated to allergic reactions. But I'm not a vet!
I suppose I am wondering if this sounds like allergies to you, and if so, what type, and what treatment do you suggest?
If not, what should I be on the lookout for if it's something else?
This isn't hugely affecting her quality of life yet, but as it seems to be getting worse -- or at the very least, maintaining intensity and starting to cause hair loss -- I want to catch it before it has the chance to get really bad. I like my vet a lot, but I figured a second opinion couldn't hurt.
I have attached pictures, although it was difficult to show the hair loss in current light. There are spots around the corners of her mouth, one below her left eye, and around both eyelids.
Thanks!
Want to ask our veterinarians a question but haven't subscribed to My Online Vet? Click here to learn how or click here to go back to the Ask a Vet Online Library of questions.
Want monthly "News You Can Use" and important Organic Pet Digest new content updates? Click here to sign up for our FREE Dog Care Monthly newsletter.
Do you believe in holistic pet care? If so, please tell your friends about us with a Facebook like, Google +1 or via Twitter, Pinterest, email or good old fashioned word of mouth. Thank you for supporting our efforts!
For additional research, search for your topic...
Also see...
Disclaimers: The information contained in this web site is provided for general informational purposes only. It is not intended as nor should be relied upon as medical advice. Rather, it is designed to support, not replace, the relationship that exists between a pet owner/site visitor and his/her local veterinarian(s). Before you use any of the information provided in the site, you should seek the advice of a qualified professional.
In the spirit of full disclosure, we wanted to let you know that we proudly support this website through advertising and affiliate marketing. In other words, when you click on a link that takes you outside of this website, we often earn a small commission. These small commissions allow us to keep the site up and running and to continue offering it completely free of charge to you. Rest assured that all content, recommendations and advice are created before, and are independent of, any sponsorship or affiliate relationship.
Click here
for more info.