Hair Loss around dog's mouth, both sides
by Inbal
(Brooklyn, NY)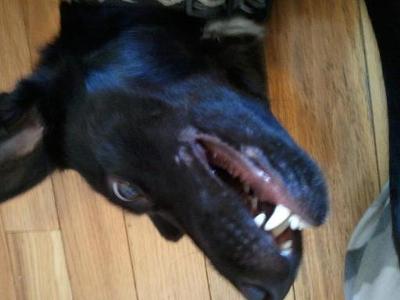 Wesley's skin on mouth corners
I rescued Wesley from the ACC shelter about a month ago. He's a black, 40 pounds, lab/collie mix, 1 and a half years old.
Please bear with me as I provide you with a detailed health history since then...
He came with a kennel cough and was on Doxy for 10 days, after which I have taken him to the vet for an overall check-up. He came to me extremely thin, and although his coat was shiny, he had noticeable white flakes, or dandruff on his coat. I of course changed his diet, and he's now eating Orijin (poultry and fish formula).
He has good appetite, very active, alert and extremely friendly. The dandruff gradually disappeared and is very mild now.
After his check-up, I was told he has a hookworm infection and the vet put him on a 3 course treatment of Pancur (to be followed three weeks after the initial treatment). He was also given a topical solution (revolution) for fleas, ticks, heartworms, etc.
Following the first treatment, I noticed hair loss/thinning around his mouth (I've attached a few pictures) that is gradually expanding. And I've also noticed small pimple like bumps on his chin. His overall body hair loss is INSANE.
I have raised dogs all my life and have never seen such excessive hair loss (even though I brush him everyday with the furminator). He also has thinning hair in the back of his ears and on his chest. He doesn't scratch excessively at all, which is what is so puzzling to me.
However, he does have a tendency to lick his paws and I can see his front paws are red. He also has hair loss on both armpits.
Its important to note that his skin is not inflamed or red at all. One last thing, which I'm not sure whether is related, but he used to shake his ears a lot in the beginning, but now not so often. Would love to hear your expert opinion.
Please help :)
Want to ask our veterinarians a

question but haven't subscribed to My Online Vet? Click here to learn how or click here to go back to the Ask a Vet Online Library of questions.
Want monthly "News You Can Use" and important Organic Pet Digest new content updates? Click here to sign up for our FREE Dog Care Monthly newsletter.
Was this page helpful? If so, please tell your friends about it with a Facebook like or via Twitter, Pinterest, email or good old fashioned word of mouth. Thank you for supporting our efforts!
For additional research, search for your topic...
Also see...