Growth on inside of dog's right ear
by Nicki Hughes
(Brora, Sutherland, North Scotland)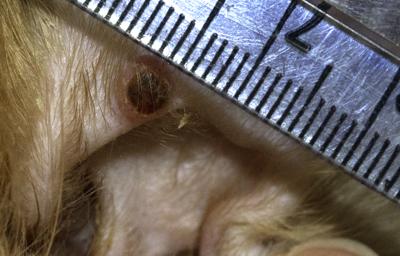 Tommy, 2 1/2 year old Blenheim Cavalier King Charles Spaniel developed a growth on the inside of his right ear 6 days ago. Initially thought he had grazed the ear scratching it but the growth has increased in height and over the last 2 days it has widened at the base. There is nothing to show or feel on the other side of the ear leather, the growth seems originate from the skin, it does not move.


He does occasionally scratch it - only a few times a day though.
Tommy was bred by me, he lives with my husband and myself, and two litter sisters, in a rural area of North Scotland, United Kingdom.
He had an easy whelping, was a good feeder, very advanced puppy for his age.
Tommy has NEVER been vaccinated, but has had homoeopathic nosodes
which protected them all when they were heavily exposed to Parvovirus at 8 months old - stopping with a friend with who had about 7 dogs ranging from 8 months to 8 years, and a litter of 12 week old puppies. The day we left the first puppy started getting ill, we'd been there for 5 days. We had a frantic month waiting to see if ours would fall ill, gave them remedies to boost their immune systems etc - we did not have a single day of illness!

Friend lost 3 puppies, almost lost 3 of her under 1 year olds and puppies' Mum - they were only saved as they were put on remedies too.
Tommy was exposed to kennel cough at about 6 months, developed swollen glands, treated with antibiotics and did not develop further symptoms.
Fed a good quality kibble with some raw foods
now know that is not a good idea
until about 15 months ago, currently fed K9natural dehydrated raw, and chicken wings or necks. Supplemented with Carob flour, Yumega plus oil, a few garlic granules. Treats all homemade - dried liver, salmon, chicken or rabbit. Give half a rice cake at bedtime as otherwise they suffer from "gurgly bellies" - known in Cavalier circles as Cavalier colic. Also tend to eat grass. Given raw vegetables and fruit as treats - no onions, citrus, grapes etc.
Poor eater until about 9 months when
he suddenly got the idea, and now has a very good appetite.
I take care of their teeth, cleaned every day, give Fragaria in the water bowl and also use Plaque off
seaweed based
on their food.
Tommy was neutered at about 16 months.
He is shy intially with strangers but quickly makes friends and is then his usual very friendly, happy, loving self. He is very affectionate and a bit clingy, likes to be touching you all the time. He does not like being cold, the three of them cuddle up on the sofa if it's cold! Also not keen on rain!
Was MRI'd at 8 months for Syringomyelia, like most Cavaliers he has the Chiari-like malformation of the skull,
no syrinxes or central canal dilatation, does have moderate dilated ventricles, also otitis media with effusion -
PSOM - exudate in ear canals
in both ears. He does scratch a bit a couple of times a day but only at his left ear, believed to be caused by this. Mild deafness but no other symptoms.
Not sure if you will be familiar with this condition, more info here http://veterinary-neurologist.co.uk/
For background: One litter sister has moderate Syringomyelia-like symmptoms caused by "just" the malformation - MRI'd July 2011; the other has similar symptoms but has not yet been MRI'd. Both parents were MRI'd scanned prior to breeding, and given the top rating, sadly 15-25% of offspring will still go on to be affected, there were 7 puppies in this litter.
I do not use any conventional parasite control measures, having previously had a Cavalier with epilepsy. We use Neem products in the summer, amethyst crystal in the water bowl, regular grooming and vacuuming, and careful inspection of coat and skin. We do not use anything like Heartguard due to our georgraphic location.
I do occasionally use Thornit to clean the ears but rarely for Tommy as he has nice wide open canals so does not tend to have any problems - haven't used this for several months on him. He hasn't been bathed for a few months, just a weekly underneath wash with baby bath, as like most boys, he gets a bit smelly otherwise!
I hope this is adequate information, and look forward to hearing from you. Thanks in advance.
Want to ask our veterinarians a question but haven't subscribed to My Online Vet? Click here to learn how or click here to go back to the Ask a Vet Online Library of questions.
Want monthly "News You Can Use" and important Organic Pet Digest new content updates? Click here to sign up for our FREE Dog Care Monthly newsletter.
Do you believe in holistic pet care? If so, please tell your friends about us with a Facebook like, Google +1 or via Twitter, Pinterest, email or good old fashioned word of mouth. Thank you for supporting our efforts!
For additional research, search for your topic...
Also see...
Disclaimers: The information contained in this web site is provided for general informational purposes only. It is not intended as nor should be relied upon as medical advice. Rather, it is designed to support, not replace, the relationship that exists between a pet owner/site visitor and his/her local veterinarian(s). Before you use any of the information provided in the site, you should seek the advice of a qualified professional.
In the spirit of full disclosure, we wanted to let you know that we proudly support this website through advertising and affiliate marketing. In other words, when you click on a link that takes you outside of this website, we often earn a small commission. These small commissions allow us to keep the site up and running and to continue offering it completely free of charge to you. Rest assured that all content, recommendations and advice are created before, and are independent of, any sponsorship or affiliate relationship.
Click here
for more info.