Growth on Dog's Upper Left Corner Eyelid
by Kimberly
(Florida)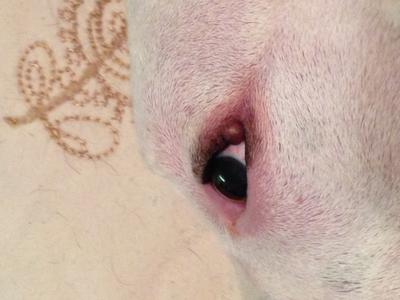 Close Up of Growth
We got our dog Charlie approximately 4 years ago. He was a rescue and they estimated him to be about a year old when we adopted him. At that time he did not have any growths on him and did not seem to be affected by allergies: red eyes, red chin, licking of paws (all signs of some sort of allergy - our recent visit with a holistic vet told us). I posted a picture of him the first day we adopted him...no redness.


About a year after we adopted Charlie he developed what looked like a pinkish wart looking growth on his right outer leg. He would bang it occasionally and it would bleed but it never seemed to grow. We took him to the vet and they said that as long as it wasn't growing or bothering him to leave it alone.
About a year or so later he developed one on his chest. This one was sort of the same thing, maybe a little darker in color and seems to be only hanging by a thread (like a skin tag). This too also bled once and a great while when he banged it while playing.
Again we were told by the vet if it didn't grow or cause any issues to leave it alone. Not sure if there is any link... but I can't pin point if these growths occurred after his shots....?
The issue that we have now is he developed what seemed to be the same sort of growth on the inner corner of his upper left eyelid about 3-4 months ago. This concerned me because obviously that cannot be comfortable and it would probably start to bother him.
Since we first spotted the growth it has grown. His eyelid seems to
be red and irritated but I do notice him pawing at it sometimes. So I am not sure if that is why it is red or if it is caused by the growth. He has red eyes (both eyes) and reddish chin... he licks a lot. He seems to be having some sort of allergy and I am not sure to what.
We visited a new vet (holistic) about a month ago hoping to get answers about these growths and she suggested that he has allergies. She suggested we do not use any kind of bleach etc in the house. She also gave us Jade Chlorella to give to him and an antihistamine for itching.
The growth on his eye doesn't seem to be getting better. I researched natural remedies for growths and came across castor oil. I started applying a warm compress along with castor oil to his growth last night.
I am hoping that he doesn't need to have this removed as I have read it could deform his eyelid and could grow back anyways :(
So for that reason I am even more skeptical about just letting anyone remove it.
I have it in my mind that I am going to try this castor oil for a week and if I do not see any improvements I feel I need to have it looked at.
Does this look like something you have seen before?
Have you heard of castor oil as a possible treatment for these kind of growths?
Any recommendations would be greatly appreciated!
Side note: He along with our other dog are currently eating Blue Buffalo Chicken and brown rice/fish sweet potato/lamb and brown rice. We mix it up. Both dogs have never seemed to have any problems with the food.
Thank you!
Want to ask our veterinarians a question but haven't subscribed to My Online Vet? Click here to learn how or click here to go back to the Ask a Vet Online Library of questions.
Want monthly "News You Can Use" and important Organic Pet Digest new content updates? Click here to sign up for our FREE Dog Care Monthly newsletter.
Do you believe in holistic pet care? If so, please tell your friends about us with a Facebook like, Google +1 or via Twitter, Pinterest, email or good old fashioned word of mouth. Thank you for supporting our efforts!
For additional research, search for your topic...
Also see...
Disclaimers: The information contained in this web site is provided for general informational purposes only. It is not intended as nor should be relied upon as medical advice. Rather, it is designed to support, not replace, the relationship that exists between a pet owner/site visitor and his/her local veterinarian(s). Before you use any of the information provided in the site, you should seek the advice of a qualified professional.
In the spirit of full disclosure, we wanted to let you know that we proudly support this website through advertising and affiliate marketing. In other words, when you click on a link that takes you outside of this website, we often earn a small commission. These small commissions allow us to keep the site up and running and to continue offering it completely free of charge to you. Rest assured that all content, recommendations and advice are created before, and are independent of, any sponsorship or affiliate relationship.
Click here
for more info.