Growth on Dog's Anus & Anal Gland Problems
by Jordan
(Reno, NV)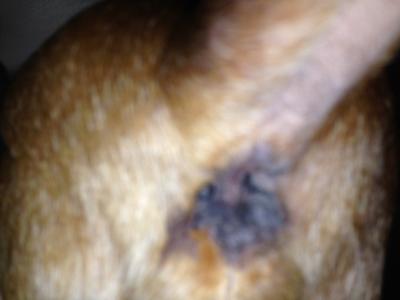 Dog Anus 1
My vet recently discovered a small black bump on the left side of my dogs anus.


Last year in October I took my dog Oscar to a new vet (Oscar is a 10 year old doxie pure bred) because he had hurt his back. After losing
my female doxie to a back problem, I wanted to take him to a knowledgeable vet.
They did x-rays of his back and expressed his anal glands. Once I got there they told me that I had no choice but to vaccinate him for rabies before they would even look at him. I'm not huge on vaccines, but since I live 3 hours from town and needed to have his back looked at, I agreed.
I got him home and all was well until the next day when his anal glands were really bothering him. They were so swollen and purple looking. He was constipated and kept scooting across the carpet. His little butt was so wet because he would lick it constantly.
I soaked his bum in warm water with Epsom salt and increased his fiber intake. And it eventually went away.
Well I took him back to that vet on March 3rd to have his teeth cleaned, while being under they expressed his anal glands again. When I got him back home his anal glands began bothering him once again, with severe constipation, licking and scooting.
I took him back about a week ago to make sure his extractions were healing ok and to ask about his anal glands. She said his teeth were great and she expressed his anal glands again, but she found a small little black mole looking thing on the side of his bum. I've never noticed that before and apparently neither have they.
She said she didn't want to mess with it because she would have to put him under again and biopsy it. She said
if it gets bigger within a month to bring him back.
Well it has gotten somewhat bigger. He is also very constipated, scooting his bum and if he does poop, sometimes it's long strips.
He has had issues with his anal sacs in the past, but not like this. It seems like all the times she has expressed his anal glands has almost made it worse.
The last time he had a problem was in January of last year. It got infected and left quite a bit of scar tissue on the glands.
I was very uneducated about allergies and a dogs diet, until now. I make sure he eats no grains, soy, corn or common allergens. He eats Stella and chewys raw beef and some canned weruva human grade food. I give him probiotics and enzymes.
He has been doing well until he went there and especially after the teeth extractions and antibiotics. Also, when they checked his blood before surgery, his pancreas enzymes were pretty elevated.
But you would never know, I mean he was a little picky about his food, but no vomiting and acted like his happy self. And when I took him to them in October of last year his blood came back great.
I'm really at a loss. I looked at anal sac tumor facts online and it doesn't sound good. I plan on taking him back on Friday to have it looked at, but I just wanted another opinion.
My questions are:
1. In your opinion does this possibly look serious?
2. What should I do to help with his elevated pancreatic enzyme levels?
3. Could the continual expressing these glands be causing this and the black thing?
4. Could it be a reaction to the vaccine from October?
5. Any suggestions on fiber? He HATES pumpkin!
6. Is there anything in his blood work that might towards anal cancer?
Thank you!
Jordan
Want to ask our veterinarians a question but haven't subscribed to My Online Vet? Click here to learn how or click here to go back to the Ask a Vet Online Library of questions.
Want monthly "News You Can Use" and important Organic Pet Digest new content updates? Click here to sign up for our FREE Dog Care Monthly newsletter.
Do you believe in holistic pet care? If so, please tell your friends about us with a Facebook like, Google +1 or via Twitter, Pinterest, email or good old fashioned word of mouth. Thank you for supporting our efforts!
For additional research, search for your topic...
Also see...
Disclaimers: The information contained in this web site is provided for general informational purposes only. It is not intended as nor should be relied upon as medical advice. Rather, it is designed to support, not replace, the relationship that exists between a pet owner/site visitor and his/her local veterinarian(s). Before you use any of the information provided in the site, you should seek the advice of a qualified professional.
In the spirit of full disclosure, we wanted to let you know that we proudly support this website through advertising and affiliate marketing. In other words, when you click on a link that takes you outside of this website, we often earn a small commission. These small commissions allow us to keep the site up and running and to continue offering it completely free of charge to you. Rest assured that all content, recommendations and advice are created before, and are independent of, any sponsorship or affiliate relationship.
Click here
for more info.