Growth Between Dog's Paw Pads
by Juli F.
(Allentown, PA, USA)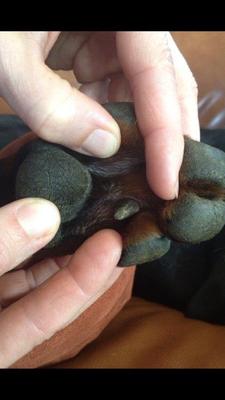 Growth Between Dog's Paw Pads
I just noticed a growth (see pic) between the bottom of my dog's toe pads on her rear foot. It looks like a nail growth but not as firm/hard as a nail. It's more like the consistency of the pad itself.


Background info: My dog is a 10.5 month female Doberman. On her initial visit to vet, I spoke about some eye discharge that seemed a bit excessive. He advised to flush tear ducts when she gets spayed. He did give me some ointment for "conjunctivitis" and it seemed to help a bit, but not clear up completely.
He also suggested she go through a first heat cycle to help her growth and hormones. Sometimes this will help build up her immune system as well.
After her first cycle, I brought her in to get spayed. He was concerned because her weight seemed a bit low, and she had also developed acne on her chin and lips as well as a papilloma wart on her gum line.
He ran some blood work to rule out a hemophilia disease common in Dobermans and everything came back negative.
I began feeding her additional dry food along with wet food. She has been on Taste of the Wild grain free dry food and I supplement 3/4 can of 4health grain free wet food.
Her acne has now cleared up with a combination of my "spa" treatments (warm compresses followed by
hydrogen peroxide). I had also followed vets orders of mupirocin 2x's daily for 1 week, then 1x's daily for another week.
Through research on my own I also began adding 1000mg fish oil and 1/8 tsp vitamin c powder to her food. She also seems to like the coconut oil I take daily, so I will give her a little dollop, about 1 tsp. Her papilloma wart is almost gone as well.
This growth on her foot does not seem to bother her. However, over the past couple of weeks, she has been hesitant on giving me the ball to throw.
She is a ball maniac and would play throw all day if possible. Now, she takes one or two throws and seems happy, but hesitant to give me the ball for additional throws. I don't know if this has anything to do with it or not, but I thought I would mention it.
There is no limp, no licking otherwise.
Thanks so much. I am interested to see if you have come across this in the past. I wonder if its even possible that she stepped on something and her skin grew around it? Or perhaps it is related to her immune system.
I would like to get her spayed but I don't want to take away what nature can provide as far as her immune system is concerned. I can always wait another cycle before spaying.
Want to ask our veterinarians a question but haven't subscribed to My Online Vet? Click here to learn how or click here to go back to the Ask a Vet Online Library of questions.
Want monthly "News You Can Use" and important Organic Pet Digest new content updates? Click here to sign up for our FREE Dog Care Monthly newsletter.
Do you believe in holistic pet care? If so, please tell your friends about us with a Facebook like, Google +1 or via Twitter, Pinterest, email or good old fashioned word of mouth. Thank you for supporting our efforts!
For additional research, search for your topic...
Also see...
Disclaimers: The information contained in this web site is provided for general informational purposes only. It is not intended as nor should be relied upon as medical advice. Rather, it is designed to support, not replace, the relationship that exists between a pet owner/site visitor and his/her local veterinarian(s). Before you use any of the information provided in the site, you should seek the advice of a qualified professional.
In the spirit of full disclosure, we wanted to let you know that we proudly support this website through advertising and affiliate marketing. In other words, when you click on a link that takes you outside of this website, we often earn a small commission. These small commissions allow us to keep the site up and running and to continue offering it completely free of charge to you. Rest assured that all content, recommendations and advice are created before, and are independent of, any sponsorship or affiliate relationship.
Click here
for more info.