Fungus on Dog's Belly & Rash Around Groin
by Pieter van Wensveen
(Vilcabamba, Ecuador )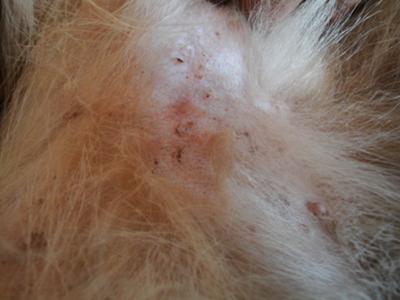 Six months ago our dog started to get a weird rash on his belly and we took him to the vet. They tested it, diagnosed it as a fungus and gave us some pills. We tried it for about two weeks, but we stopped giving them and went on to MMS, (magical miracle solution), which seems to be really good stuff. We gave this for a while, and it seemed to get rid of it.
Now we are 6 weeks further down the road, and it has gotten a lot worse. His whole belly is reddish, and he has these puzzie spots , and a rash around his groin area.
We would love for him to get better and stop itching.
We also got him off the dog food and are cooking a meal for him twice a day, always with some chicken, fish, or cooked meat. Is it better to cook the meat?
By the way, our dog is a 10 month old Siberian husky/chow mix.
Hopefully you can help us.
Cheers and much love from Ecuador,
Pieter
Want to ask our veterinarians a

question but haven't subscribed to My Online Vet? Click here to learn how or click here to go back to the Ask a Vet Online Library of questions.
Want monthly "News You Can Use" and important Organic Pet Digest new content updates? Click here to sign up for our FREE Dog Care Monthly newsletter.
Do you believe in holistic pet care? If so, please tell your friends about us with a Facebook like, Google +1 or via Twitter, Pinterest, email or good old fashioned word of mouth. Thank you for supporting our efforts!
For additional research, search for your topic...
Also see...