Flaky & Itchy Dog Skin Bumps
by Gina Frias
(Guaynabo, Puerto Rico)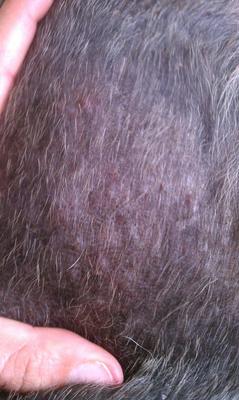 Our 3 yr old male mini Schnauzer started getting bumps all over back about a year ago. First it was a few, now its all over his body. He scratches everywhere and licks his paws.
We have changed his diet a few times but nothing seems to work. He is now eating Holistic Blend lamb n rice.
He has never received any rounds of antibiotic and hasn't been vacinated since he was a puppy.
We bathe him once a week with Azmira organic shampoo and once a month we take him to get professionally groomed. In fact, getting a new groomer after we moved last year is the only thing that has changed.
Gina
Want to ask our veterinarians a

question but haven't subscribed to My Online Vet? Click here to learn how or click here to go back to the Ask a Vet Online Library of questions.
Want monthly "News You Can Use" and important Organic Pet Digest new content updates? Click here to sign up for our FREE Dog Care Monthly newsletter.
Do you believe in holistic pet care? If so, please tell your friends about us with a Facebook like, Google +1 or via Twitter, Pinterest, email or good old fashioned word of mouth. Thank you for supporting our efforts!
For additional research, search for your topic...
Also see...