Female dog has growths on her paws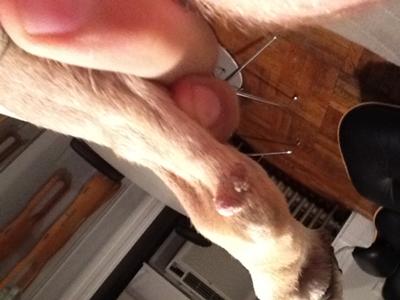 these are the 2 smaller ones above the
We have a 1.5 yr old female pug that has developed some growths on her paws. We thought at first they were ticks (we live in NYC and take her to Central Park often), but we took her to the vet and they confirmed they weren't. They were perfectly round and tick-like.


I grew up in Iowa and had outdoor dogs that we were always doing regular removals on and I was shocked when the vet said they weren't ticks. The vet said it could be a skin growth, mole, skin tag, dermatitis, or a variety of other things....but definitely not a tick. The advice was basically useless and cost $150. They didn't offer advice as to how to get rid of them, just to keep our eye on it.
Well, they've grown and changed. The research we've done says they are probably warts. We would rather do some sort of homeopathic remedy rather than put her through the stress of an invasive procedure- she despises the vet and is really wild when there (which might be why the vet wasn't so helpful). We do not have pet insurance and really can't afford the surgical options we've read about (which is how we found you!).
Hopefully because of her age we can rule out malignant tumors. The largest one is on her left back foot near the pad. The two smaller ones are on the same foot on the back (near the foot elbow). There is another one on her front paw on the far pad (the pad that is sort of closer to her knee).
We have been reluctant to apply anything to them until we know what they are. We are fearful that we may have angered them by trying to remove one initially when we thought it was a tick.
Please let us know if you have any idea as to what they might be and the best way to get rid of them.
Want to ask our veterinarians a question but haven't subscribed to My Online Vet? Click here to learn how or click here to go back to the Ask a Vet Online Library of questions.
Want monthly "News You Can Use" and important Organic Pet Digest new content updates? Click here to sign up for our FREE Dog Care Monthly newsletter.
Do you believe in holistic pet care? If so, please tell your friends about us with a Facebook like, Google +1 or via Twitter, Pinterest, email or good old fashioned word of mouth. Thank you for supporting our efforts!
For additional research, search for your topic...
Also see...
Disclaimers: The information contained in this web site is provided for general informational purposes only. It is not intended as nor should be relied upon as medical advice. Rather, it is designed to support, not replace, the relationship that exists between a pet owner/site visitor and his/her local veterinarian(s). Before you use any of the information provided in the site, you should seek the advice of a qualified professional.
In the spirit of full disclosure, we wanted to let you know that we proudly support this website through advertising and affiliate marketing. In other words, when you click on a link that takes you outside of this website, we often earn a small commission. These small commissions allow us to keep the site up and running and to continue offering it completely free of charge to you. Rest assured that all content, recommendations and advice are created before, and are independent of, any sponsorship or affiliate relationship.
Click here
for more info.