eye issues
by Joe
(Valley Stream, NY)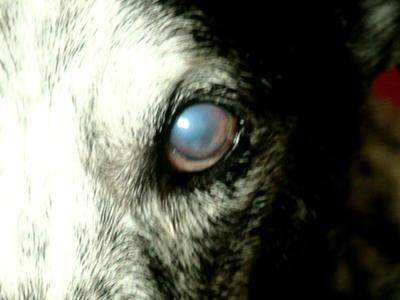 Left eye with glare
My dog Snitter started gradually exhibiting cloudiness in his eyes about two years ago, most noticeably in his left eye, though there is some in his right eye, as well.


He is a 13 year old German Shorthaired Pointer/Greyhound mix. He's always had reddish eyes since he was a pup. In addition, he always had a ropy mucous that had to be cleaned throughout the day. A holistic vet years earlier had suggested that he was likely allergic to something.
There were no additional symptoms with the cloudiness initially. I brought him to a conventional vet, who couldn't determine a definitive diagnosis, except keratitis.
It didn't appear to be cataracts or glaucoma.
For the keratitis, he was prescribed Vetropolycin, which seemed to clear up the cloudiness (and a bit of the redness). He was kept on this twice a day for about two or so weeks. I brought him back to the vet, and she noticed improvement in the eyes, though she noted that it might return.
The vet recommended an ophthalmologist, but I couldn't afford one at the time. I began experimenting with different foods, as I suspected that allergies might play a role.
Snitter's always been on premium (usually organic, but always natural) dog food. After trying different ones, I put him back on his old standard (Castor & Pollux Organix), and he began--after a week or so--displaying
additional symptoms in his eyes (particularly the left) that he'd never displayed prior, including sensitivity to light, itchiness (he would attempt to scratch) and a more intense cloudiness.
After another week of this, I took him off the food, and put him on Dick Van Patton's Natural Balance Vegetarian formula. All of the symptoms cleared up, and the cloudiness went back to the way it had been before. I've since kept him away from chicken and beef, as I suspect those may be the culprits he's allergic to.
I would like to get to the bottom of the issue, as I can tell that he doesn't see as well as he once did (especially in low-light), as he's a bit clumsier. I'd be more than willing to put him on some kind of holistic, herbal solution that you think would work.
I understand that it might simply be old age, and symptoms of nuclear sclerosis, but I don't want to assume that's what it is.
Aside from the Natural Balance Vegetarian food, he's on GreenDog Naturals Healthy Motion Joint Supplement and gets Hip Bones (made with tart cherry concentrate and natural ingredients) for his mobility (his back legs aren't as strong as they once were).
For his teeth, he gets ProDen's Plaque-Off when needed. He also gets some of my MacroLife's Macro Greens once a day (just as a green supplement.)
Want to ask our veterinarians a question but haven't subscribed to My Online Vet? Click here to learn how or click here to go back to the Ask a Vet Online Library of questions.
Want monthly "News You Can Use" and important Organic Pet Digest new content updates? Click here to sign up for our FREE Dog Care Monthly newsletter.
Do you believe in holistic pet care? If so, please tell your friends about us with a Facebook like, Google +1 or via Twitter, Pinterest, email or good old fashioned word of mouth. Thank you for supporting our efforts!
For additional research, search for your topic...
Also see...
Disclaimers: The information contained in this web site is provided for general informational purposes only. It is not intended as nor should be relied upon as medical advice. Rather, it is designed to support, not replace, the relationship that exists between a pet owner/site visitor and his/her local veterinarian(s). Before you use any of the information provided in the site, you should seek the advice of a qualified professional.
In the spirit of full disclosure, we wanted to let you know that we proudly support this website through advertising and affiliate marketing. In other words, when you click on a link that takes you outside of this website, we often earn a small commission. These small commissions allow us to keep the site up and running and to continue offering it completely free of charge to you. Rest assured that all content, recommendations and advice are created before, and are independent of, any sponsorship or affiliate relationship.
Click here
for more info.