Extreme Dog Itching, Scabbing & Hair Loss
by Sandy
(Michigan)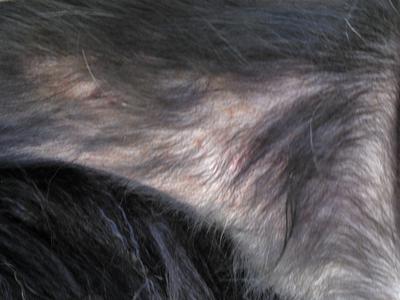 underbelly/leg with red spots
My dog developed itching and hair loss in mid-July during a very hot, humid spell. Her itching was intense, and she was pulling out her fur in patches near her tail/hind end.


The skin underneath was raw, red, and had small open sores that would crust over, then heal. The itching seemed to be mainly her hind quarters, belly, and inner elbows/front legs.
We tried Benadryl, but a low dose (only 25 mg), and a natural antihistamine (Histablock) for short periods, but since they didn't help, we discontinued.
We tried a homemade oatmeal/baking soda bath. Didn't really help.
Tried coconut oil on the itchy hind end spots – no help.
Things seemed to improve by early-mid August, and she started growing back fur in the bald spots, but the itching continued, just at a much lower level. Then it seemed to ramp up again, and for the past few weeks the itching is very intense on her underbelly.
She scratches everywhere, but mainly her belly, hind end (but less than before), and her front legs/elbows. She scratches her head/face, but that fur looks normal. If she is awake, she is scratching.
As I check her over, every day I seem to find new spots where there are scabs under the fur, then she loses that fur, scabs seem to heal.
She is also shedding more than normal, and her fur seems to be thinning and not as shiny. I have just noticed her skin under the fur is looking dry and flaky, which it wasn't when this started.
She has had severe itching in the summer for the past couple of years, but nothing like this.
In early August, I gave her Heartgard for the first time in a few months (see history below), then in mid-August I gave her Frontline, which she hadn't had for 2/3 months. I was afraid that even though I couldn't find any fleas on her, fleas were her issue.
Throughout July and August, there were the usual fluctuations in temp, but as I look back, she seems to get worse when it is hot and humid. Air conditioning? Heat/humidity? Flea allergy dermatitis?
Two weeks ago I called my conventional vet, who prescribed cefpodoximine proxetil, 200 mg for 14 days, which doesn't seem to have helped. I have tried Vetericyn
wound spray on the open sores, not much help. I have tried bathing her with herbal shampoo, just rinsing her with water, and rinsing her with a betadyne/water solution. Nothing helps.
History:
Lucky is a 75-lb, 7 year-old (ish) black mixed breed (flat coat retriever or collie/newfie?) female.
Back in April of this year she was diagnosed with vestibular disease. About 5 weeks later, she hadn't improved much, so she was prescribed Prednisone, tapered dose, for 21 days. She did finally improve but head tilt is still noticeable at times.
She hasn't had any vaccines since April 2012, but I had given her Interceptor and Frontline pretty consistently until her vestibular disease in April, except usually gave the Frontline every 2 months. I then stopped those until the Heartgard and Frontline in August.
(I am going to switch to a natural flea repellent. Also, do I really have to give her heartworm meds? I hate all these poisons.)
The other thing to note about Lucky is that when going to the vet for any procedure, even blood draws, she gets anesthesia/sedation due to anxiety/aggression. I am against it, but my vet thinks it is better for her anxiety than people holding her down. So she has had that probably once a year for the past few years.
She was eating Back to Basics turkey dry food, supplemented with Honest Kitchen Embark. I did briefly try to switch dry dog foods back in June, but switched back after the itching started as I was afraid it was the new dry food.
In the past week, I have had her only on the Honest Kitchen Embark, and have been giving her the Histablock twice a day, as well as BetaThym twice a day, an essential fatty acid oil by Flying Bassett organics, and Kali Sulph once a day, at the recommendation of the woman at the holistic pet supply. So far, no change.
The only other thing I can think of to note is that she has two very small cyst-type round growths that have just shown up in the past year, one on her leg above the front paw, and one on her back close to her tail. We haven't had them looked at. She doesn't pay them much attention.
Appetite, energy, and everything else are normal.
Want to ask our veterinarians a question but haven't subscribed to My Online Vet? Click here to learn how or click here to go back to the Ask a Vet Online Library of questions.
Want monthly "News You Can Use" and important Organic Pet Digest new content updates? Click here to sign up for our FREE Dog Care Monthly newsletter.
Do you believe in holistic pet care? If so, please tell your friends about us with a Facebook like, Google +1 or via Twitter, Pinterest, email or good old fashioned word of mouth. Thank you for supporting our efforts!
For additional research, search for your topic...
Also see...
Disclaimers: The information contained in this web site is provided for general informational purposes only. It is not intended as nor should be relied upon as medical advice. Rather, it is designed to support, not replace, the relationship that exists between a pet owner/site visitor and his/her local veterinarian(s). Before you use any of the information provided in the site, you should seek the advice of a qualified professional.
In the spirit of full disclosure, we wanted to let you know that we proudly support this website through advertising and affiliate marketing. In other words, when you click on a link that takes you outside of this website, we often earn a small commission. These small commissions allow us to keep the site up and running and to continue offering it completely free of charge to you. Rest assured that all content, recommendations and advice are created before, and are independent of, any sponsorship or affiliate relationship.
Click here
for more info.