Dog's Stained Teeth Won't Get Clean!
by Yosef
(Gilbert, Arizona)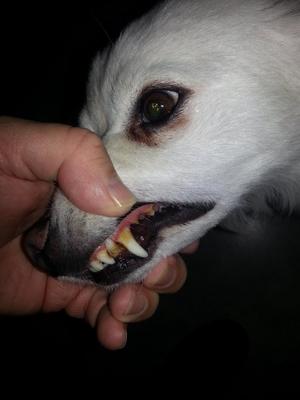 Gimmel's teeth
Two years ago our dog Gimmel had problems with his teeth being so stained despite all the special water additives and dental sticks that we purchased. Last year, along with his Banfield Pet Wellness program, we purchased a dental cleaning.


The cleaning was wonderful. His teeth were very nice and clean, however he had to be sedated etc and that was not good since we don't like to have this sort of thing done.
So, we vowed that we would take care of his teeth and asked the vet what we could do to ensure that we did everything possible to keep them healthy. Of course they wanted us to pay another $450 for the wellness plan but we decided to try on our own and they said OK you can buy this toothpaste specially made for dogs.
We tried Triple Pet EZ Dog Vanilla flavored first, and that didn't seem to do anything. We tried the spray on that you can get as advertised on the TV, that didn't do anything either and then there were all sorts of bad reports of dogs teeth falling out so we decided no we were not going to use that.
We went to the vet again and she said to use Petrodex, meat flavored. We have been diligently using this for the past 8 months and from the photo attached, nothing is working and his teeth and his breath are getting worse.
We can't afford another dental cleaning.
Gimmel is a Japanese Spitz. He is about 3 years old; He's still young and we don't want any heart problems. He is very active and plays with the other 3 dogs and is very energetic.
What can you suggest that would be natural that would not be abrasive?
Also, we asked the vet about rawhide and it seems to make him sick so we stopped giving it to him although he loves to chew on it. We also asked her about raw neck bones and she said no because of the sharp edges.
Are there any other kinds of bones that don't stink or get messy that would be good to clean the teeth?
Thank you Dr.
Yosef
Want to ask our veterinarians a question but haven't subscribed to My Online Vet? Click here to learn how or click here to go back to the Ask a Vet Online Library of questions.
Want monthly "News You Can Use" and important Organic Pet Digest new content updates? Click here to sign up for our FREE Dog Care Monthly newsletter.
Do you believe in holistic pet care? If so, please tell your friends about us with a Facebook like, Google +1 or via Twitter, Pinterest, email or good old fashioned word of mouth. Thank you for supporting our efforts!
For additional research, search for your topic...
Also see...
Disclaimers: The information contained in this web site is provided for general informational purposes only. It is not intended as nor should be relied upon as medical advice. Rather, it is designed to support, not replace, the relationship that exists between a pet owner/site visitor and his/her local veterinarian(s). Before you use any of the information provided in the site, you should seek the advice of a qualified professional.
In the spirit of full disclosure, we wanted to let you know that we proudly support this website through advertising and affiliate marketing. In other words, when you click on a link that takes you outside of this website, we often earn a small commission. These small commissions allow us to keep the site up and running and to continue offering it completely free of charge to you. Rest assured that all content, recommendations and advice are created before, and are independent of, any sponsorship or affiliate relationship.
Click here
for more info.