Dog's left eye is cloudy and getting worse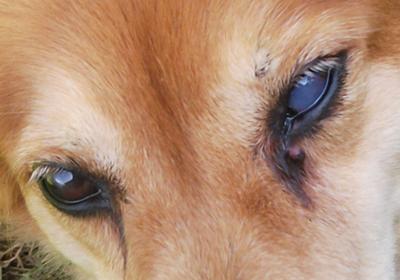 My dog Hannah was diagnosed with Pannus at about 1 1/2 years of age, and I proceeded to treat her with Prednisone eye drops off and on for the next ten years or so (what a bad, bad thing to do). Her liver enzymes were off the charts of course (so much that it looked like she had hepatitis) by the age of twelve, and her thyroid was low.


My sister, an acupuncturist, made Hannah a formula to offer kidney yin support (6 flavor formula), which she's been on for a couple of years, and I had her on kelp for a year to help address the crazy liver enzyme situation (I stopped the kelp about a year ago since Hannah seemed to be experiencing a slight loss of coordination). I had her on thyroid pills for just a few days, but they made her extremely hyper, so it seemed to be too much.
She looked like she had the normal eye clouding that happens with dogs in her age group, and then seemed to have allergies--scratching her eyes and rubbing her face on the ground. I don't know if she injured it with all the scratching, but her left eye has been bothering her for the last five days--she's not opening it all the way, and it seems to be getting cloudier and cloudier, while her right eye seems fine.
I've been bathing both eyes with a solution of Eyebright (Calm Eyes it's called), but the left eye seems to be getting worse by the day.
She's on Wellness Lamb and Rice (due to her chicken allergy) and has been for the last three months. Before that it was Blue Buffalo Fish and Sweet Potato. I think I almost killed her with putting her on Orijen a year or so ago with its high protein levels.
My sister has sent Hannah some Jue Ming Zi for her eye, but we're not sure if it's safe for dogs to take internally.
By the way, Hannah is a 14-year-old Golden Retriever/Border Collie/German Shepherd mix.
Please inform me on what to do next. Thank you so much!
Want to ask our veterinarians a question but haven't subscribed to My Online Vet? Click here to learn how or click here to go back to the Ask a Vet Online Library of questions.
Want monthly "News You Can Use" and important Organic Pet Digest new content updates? Click here to sign up for our FREE Dog Care Monthly newsletter.
Do you believe in holistic pet care? If so, please tell your friends about us with a Facebook like, Google +1 or via Twitter, Pinterest, email or good old fashioned word of mouth. Thank you for supporting our efforts!
For additional research, search for your topic...
Also see...
Disclaimers: The information contained in this web site is provided for general informational purposes only. It is not intended as nor should be relied upon as medical advice. Rather, it is designed to support, not replace, the relationship that exists between a pet owner/site visitor and his/her local veterinarian(s). Before you use any of the information provided in the site, you should seek the advice of a qualified professional.
In the spirit of full disclosure, we wanted to let you know that we proudly support this website through advertising and affiliate marketing. In other words, when you click on a link that takes you outside of this website, we often earn a small commission. These small commissions allow us to keep the site up and running and to continue offering it completely free of charge to you. Rest assured that all content, recommendations and advice are created before, and are independent of, any sponsorship or affiliate relationship.
Click here
for more info.