Dog with spinal cord problem and partially paralyzed
by Bonnie Riley
(Toledo, Ohio, USA)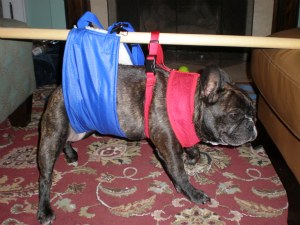 Pia's therapy set-up
On Monday, Dec 6th, my previously healthy Frenchie, Pia, who was doing nothing other than lying on the window seat, suddenly lost the use of her left front leg, her left rear was extremely weak, and her right limbs were weak.


She was to her regular vet within an hour. X-Rays were taken of left front and spine and all appeared negative. The vet guessed that it was a nerve paralysis and sent us home with Duramaxx and said to let her rest.
As the day progressed into evening, it was obvious that Pia was quite weak and was unable to sit, stand, eat or eliminate. We took her to a veterinary neurologist the next day, a 160 mile round trip. He encouraged us to have an MRI, which, at $3000, was financially out of the question.
If it had shown that surgery was needed, the $7000 probable expense was also not something we could have paid. Our Pia was not in any pain, which the neurologist seemed to feel ruled out most diagnoses that would be helped by surgery.
His original assessment included the following:
Clinical Diagnosis: Asymmetrical C6-T2 myelopathy
Neurological Exam:
-Mentation: Alert & responsive
-Gait/Posture: Non-ambulatory tetraparesis, flaccid paralysis left front, spastic paresis left rear, mild paresis right side
-Postural reactions: Absent left side, delayed right side
-Spinal reflexes: No flexor reflex left front, normal right front; exaggerated patellar reflexes normal flexor reflex in rear limbs, intact cutaneous trunci bilateral.
-Muscle tone - Decreased left front limb
-Cranial nerves: No CN deficit
-Spinal pain: No spinal hyperesthesia
-Neuroanatomic Localization: Asymmetrical C6 - T2 myelopathy
Assessment: Pia's examination is compatible with a low cervical spinal cord problem. A vascular injury (acute intramedullary bleed, embolus - FEC) is thought to be most likely based on acute onset, asymmetry of deficits and her not acting painful.
Other causes for a cervical myelopathy include a disk herniation and tumor and myelitis. An MRI of the cervical spine is needed to determine the cause of Pia's neurologic deficits. The owners elected to not proceed with the MRI and would like to treat Pia with nursing care and home exercises.
Unfortunately, there is no medical treatment for vascular spinal cord injuries. Treatment is limited to supportive/nursing care, and bladder management. A prognosis cannot be fiven since the cause of the neurologic deficits was not determined.
END OF FIRST ASSESSMENT
We brought Pia home and started home therapy - Range of Motion, strengthening exercises, balance work, and much love. We found that if we positioned and balanced her on all fours outside, she could urinate and defecate, so elimination has not been a problem.
There is snow on the ground which has been a good thing - she worked really hard at first to keep from falling over into the cold, cold snow, and when she decided it was time to hobble around, the snow protected her dragging left front leg.
As the two weeks have passed, Pia has continued to gain strength and balance, but has no purposeful abilities in her left front leg. She has use of the shoulder muscle, but nothing downward. She has good pain sensation in the left front, being able to feel (and respond with looking and twitching) light tickling of the fur between her toe pads.
She has a strong Babinski reflex when probed between her toes with my finger. Her left rear leg is definitely weak but has purposeful use. She is able to scratch her left ear with that leg and, if she absolutely has to, she'll push off with it.
Her pain/touch ability is diminished, and she is slow to respond to the foot/toe squeezes we use to encourage her to exercise that leg (along with small bites of turkey which really motivate her well!)
She has a decent appetite, in part because instead of her usual Iam's dry kibble, she's getting Mighty Dog which I've had to mix with water because up until yesterday afternoon, she has been unable/unwilling to drink water from a bowl. For about a week, I forced water into her with a syringe, and after about a week, she began to lick and lap at the syringe, but did not drink from a bowl, which was elevated. She was able to lap the thick slurry of dog food &
water. Yesterday, for the first time, she lapped water from her raised water dish. We cheered and hugged her a lot.
The neurologist doesn't feel that there was any relationship between this inability to drink and her stroke. She has some minor choking with eating, especially if we don't give her pauses as she eats. She seems to swallow a lot of air - I actually pat her hard in mid-feeding, like burping a baby, and it helps a lot. She has much more rear end gas than before her stroke, too. I don't know if that's from change of diet or air swallowing. I also told him that her formerly mighty bark has become a whispery woof, even when the mailman is coming up the sidewalk. I beg to differ with the neurologist.
I wanted to try other therapies for my dog beyond our home attempts and found a veterinarian in my area with hydrotherapy and laser treatments which Pia is getting twice a week. The neurologist does not feel that laser is of any benefit, and he had no issues with the hydrotherapy. Pia loves the laser treatments. She has muscle spasms, especially with her ROM, and she is totally relaxed after her laser treatments. She does not like the hydrotherapy, but she perseveres. She can swim for 5 minutes, of course, wearing a life jacket. She's not able to coordinate movement to walk on the underwater treadmill as yet, but she's never been the most energetic dog in the world.
She limps, hobbles, bunny-hops around outside, looking for the Perfect Potty Place. Indoors, she mostly likes her spot on the window seat (protected from falling by a sofa pushed up against it). She manages to get around on the carpeted areas. She's become interested in toys again and thoroughly engages in games of tug-of war. We're gentle with her and we use this modality to work in some balance reinforcement. She wants to play rough, but we keep it more low key.
Pia returned to the neurologist yesterday. His notes read as follows:
Current Status: Pia is here for recheck. Still drags left front limb, however seems sensitive to the touch, rapidly kicks leg away. Is also still weak in left rear, will splay out on slick flooring. Owner concerned she has difficulty drinking water, and when eats laying down acts as though she is choking. Owner also concerned about her barking, bark seems to be "weaker" than previously. Is currently doing hydrotherapy and laser therapy at Sylvania. Is on medication for chronic otitis, no other meds.
Neurological Examination:
- Gait: Ambulatory with no motor to LF distal to elbow and spastic paresis LR, normal motor on right side.
- Postural reactions: Absent in left limbs
- Spinal reflexes: No flexor withdraw in left thoracic limbs, exaggerated patellar reflex left rear, normal
reflexes right side
- Spinal pain: No spinal hyperesthesia
- Pain perception: Intact pain perception in all limbs
Assessment: Pia's neurologic status has improved some. Neurologic improvement is encouraging but the prognosis for continued functional improvement is guarded for the left front and fair for the left rear leg.
END OF CURRENT VETERINARY NOTES
What else do you suggest? Any thoughts as to whether or not Pia could benefit from acupuncture, chiropractics, other non-traditional veterinary care? There is no one in our area who does this, so we would be unable to do twice-a-week or even weekly visits, but if it's within 100 miles or so, it would be feasible for us to see someone once or twice a month.
She will continue with her twice weekly hydrotherapy and laser treatments. The neurologist suggested electrical stim to her left front leg. I plan to check with the place where she gets hydrotherapy to see if they have it available.
Pia has mild allergies - chews her feet, though not to a state of rawness. We have tried many different diets, including raw diet and given each one a4-6 week trial, with no change. She has near-chronic ear infections and is currently on Surolan ear drops.
Several years ago, she did get some allergy relief from steroid shots, but we felt that the potential side effects outweighed any benefits, so we live with the foot nibbling. She hasn't had steroids for about 3 years.
Thank you, Bonnie
Want to ask our veterinarians a question but haven't subscribed to My Online Vet? Click here to learn how or click here to go back to the Ask a Vet Online Library of questions.
Want monthly "News You Can Use" and important Organic Pet Digest new content updates? Click here to sign up for our FREE Dog Care Monthly newsletter.
Do you believe in holistic pet care? If so, please tell your friends about us with a Facebook like, Google +1 or via Twitter, Pinterest, email or good old fashioned word of mouth. Thank you for supporting our efforts!
For additional research, search for your topic...
Also see...
Disclaimers: The information contained in this web site is provided for general informational purposes only. It is not intended as nor should be relied upon as medical advice. Rather, it is designed to support, not replace, the relationship that exists between a pet owner/site visitor and his/her local veterinarian(s). Before you use any of the information provided in the site, you should seek the advice of a qualified professional.
In the spirit of full disclosure, we wanted to let you know that we proudly support this website through advertising and affiliate marketing. In other words, when you click on a link that takes you outside of this website, we often earn a small commission. These small commissions allow us to keep the site up and running and to continue offering it completely free of charge to you. Rest assured that all content, recommendations and advice are created before, and are independent of, any sponsorship or affiliate relationship.
Click here
for more info.