Dog with Small Wart & Hot Spots - Cause, Treatment & Diet, Medication and Vaccination Advice
by Judy M.
(Chula Vista, CA USA)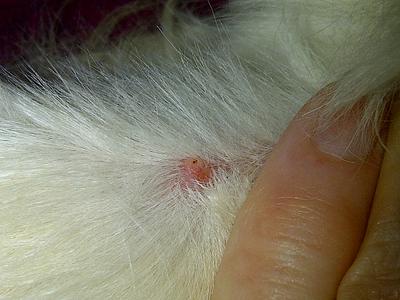 Small Wart on Dog's Leg - Photo 1
My dog has 2 skin issues (wart and hot spots) and I need advice on treatment, diet and what is causing the problems, including whether vaccinosis & over-medicating with Comfortis & Heartgard could be the culprit.


My dog's skin issues started about a month ago:
1. A very small wart on her leg (about half the size of a peppercorn, flesh-colored - see images), but she was licking & chewing it & made it bleed
2. She has been getting a series of hot spots lately, that re-occur elsewhere on her body after clearing up. We tried various topical treatments before taking her to the vet for both of these skin issues:
*K-7 Antiseptic spray (water, boric acid,benzalkonium chloride, 2%, potassium chloride,zinc sulfate, sodium borate, methyl paraben, propyl paraben, campor)
*Earth's Balance "Itch Free" (ionized water with probiotic tannins)
*CoolSpot2000 which contains a proprietary blend of -aloe barbedends (sp?), grapeseed extract, in a spray- made for hot spots and separately a spray topical antibiotic, Betagen (Gentamicin Sulfate with Betamethasone Valerate)-(not used at same time as the other sprays)- (alternating-did not use all these topicals together, tried first ones first along with...
* 14 days (7/22-8/8) of antibiotic capsules (cephalexin, 250mg twice a day) - local vet prescribed Jul 22 ,when was also given injection of both Depo-medrol & Baytril
Finished the antibiotic capsules 8/8.
Gave 1 dose Thuja per
Dr Richard Pitcairn's book, Complete Guide to Natural Health for Dogs and Cats
about homeopathic wart treatment & gave the single dose method recommended in his book for dog wart (two 30 cc pills of Thuja, crushed , orally).
Local vet recommended surgery with a $477 estimate to remove the wart (which was his only recommendation other than the antibiotics above). The surgery would include inhalant gas anesthesia.
I would like to find her a local homeopathic vet, but there are none near me in Chula Vista, CA that I can find.
In the interim, I am hoping that advice & recommendations from you can be of assistance regarding my dog's ideal breed-specific diet, considering her skin issues and possible allergies.
Regarding home treatment for the small wart on her leg (before resorting to anesthesia and surgery), what do you think about using "Grandma's Black Salve" (many have
reported success with warts on humans & dogs in the testimonials)?
This week I am noticing her stool is softer & covered in a film of mucous - could this be due to the Thuja and toxins releasing?
Prior to starting her on Darwin's frozen raw organic diet (grain free, hormone &antibiotic-free, grass fed raw food) I fed a variety of Chicken, Turkey, Beef and Duck. I rotated these starting on 5/18/13 until present, except I have changed my next order to be Duck only to rule out possible allergy to chicken or beef (Duck was recommended as possibly least likely to cause allergy).
Could her issues be diet-related toxins coming out? Prior to beginning Darwin's raw organic food in May, she was on Natural Balance Limited Ingredients Diet kibble for her whole life.
I know that raw is supposed to be better for her, but these skin problems seemed to start around the time of introducing raw (frozen) in all the varieties. Hopefully, eliminating all the varieties of protein except one (Duck for now) I can evaluate if she is allergic to one of the proteins.
Skin problems (hot spots and wart) – am I on the right track with her diet? Can you make any diet and skin suggestions?
My dog is a 20 Lb, 6-year old CKCS Spaniel/Mini Eskimo Mix. She has long white & beige tan fur & very fair pink skin and a pinkish black nose. She is 21 pounds, and has mostly been in very good health.
- Rabies vac(3 year) given 9/2012; 3 yr1/2009; 9/2008 (1 yr )
- Yearly has been given DHP+P+C, Bordetella, heartworm tests
- Comfortis and Heartgard continuously for most of her life, and will soon be due for this month's doses, but I have not given them yet, wondering if Heartgard or Comfortis is too much meds?
I would like advice on vaccinating or not, medicating with Comfortis and Heartgard, and also diet for a 6 year old, 21-pound, fair skinned dog with above skin issues, but otherwise healthy and happy.
Overmedicating with Comfortis and Heartgard: I am wondering about vaccinosis and/or allergies, and if all of above history is somehow related.
Thanks, Judy
Want to ask our veterinarians a question but haven't subscribed to My Online Vet? Click here to learn how or click here to go back to the Ask a Vet Online Library of questions.
Want monthly "News You Can Use" and important Organic Pet Digest new content updates? Click here to sign up for our FREE Dog Care Monthly newsletter.
Do you believe in holistic pet care? If so, please tell your friends about us with a Facebook like, Google +1 or via Twitter, Pinterest, email or good old fashioned word of mouth. Thank you for supporting our efforts!
For additional research, search for your topic...
Also see...
Disclaimers: The information contained in this web site is provided for general informational purposes only. It is not intended as nor should be relied upon as medical advice. Rather, it is designed to support, not replace, the relationship that exists between a pet owner/site visitor and his/her local veterinarian(s). Before you use any of the information provided in the site, you should seek the advice of a qualified professional.
In the spirit of full disclosure, we wanted to let you know that we proudly support this website through advertising and affiliate marketing. In other words, when you click on a link that takes you outside of this website, we often earn a small commission. These small commissions allow us to keep the site up and running and to continue offering it completely free of charge to you. Rest assured that all content, recommendations and advice are created before, and are independent of, any sponsorship or affiliate relationship.
Click here
for more info.