Dog with skin rash, reoccurring UTI's and prone to bladder stones
by The Vayns
(NY, NY)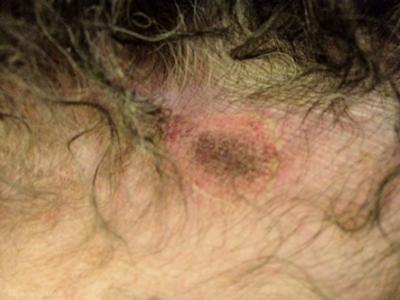 My spayed 8 yr old Havanese has been on antibiotics for a large part of the past year. She first started having very localized skin rashes about two years ago and would have occasional flair ups and was prescribed antibiotics for that. She would also have UTI's at least once a year and would also be given antibiotics for this.


Nevertheless, last year in March she had bladder stones removed and since then the skin rashes have been appearing more frequently and so have the UTI's. She has a foul fishy smelling urine and the rashes first appeared on her belly and genitals and now are all over her back and chest too.
They first start off as a localized small raised bump and grow with liquid inside which eventually hardens, crusts and flakes off leaving either raw skin underneath or darkened skin. Before the rashes just seemed to be oily and a bit like caked raised skin. This new rash is flaky and dry.
She also developed a sebaceous cyst on her neck that has been growing and when you press it, fat comes out (lots of it).
She is constantly licking her genitals and paws.
She has been on so much antibiotics in the past year that the regular 2-3 week courses no longer work. Before the stone removal she was eating dry wellness dog food and afterwards Hill's/science diet CD.
I want to know how to best approach this holistically but due to so many issues going on, I am not sure where to start.
What should I feed her? Raw food? Wet food?
I also don't mind cooking if I knew what to include and not include.
She weighs 12 lbs but should be weighing 9-10lbs.
I also am not sure what should I be bathing her with that will soothe her skin. Also, should I give her supplements?
Thank you in advance for all guidance and help.
Want to ask our veterinarians a question but haven't subscribed to My Online Vet? Click here to learn how or click here to go back to the Ask a Vet Online Library of questions.
Want monthly "News You Can Use" and important Organic Pet Digest new content updates? Click here to sign up for our FREE Dog Care Monthly newsletter.
Do you believe in holistic pet care? If so, please tell your friends about us with a Facebook like, Google +1 or via Twitter, Pinterest, email or good old fashioned word of mouth. Thank you for supporting our efforts!
For additional research, search for your topic...
Also see...
Disclaimers: The information contained in this web site is provided for general informational purposes only. It is not intended as nor should be relied upon as medical advice. Rather, it is designed to support, not replace, the relationship that exists between a pet owner/site visitor and his/her local veterinarian(s). Before you use any of the information provided in the site, you should seek the advice of a qualified professional.
In the spirit of full disclosure, we wanted to let you know that we proudly support this website through advertising and affiliate marketing. In other words, when you click on a link that takes you outside of this website, we often earn a small commission. These small commissions allow us to keep the site up and running and to continue offering it completely free of charge to you. Rest assured that all content, recommendations and advice are created before, and are independent of, any sponsorship or affiliate relationship.
Click here
for more info.