Dog with Irregular Eyelid Lump
by Tammy Shull
(Aspers, PA 17304 USA)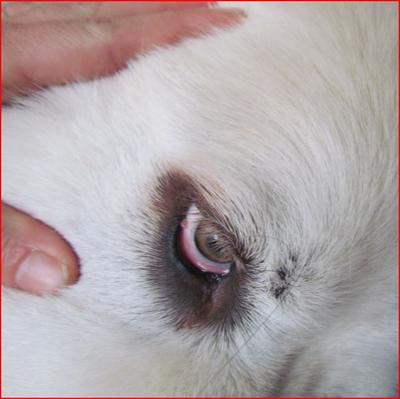 Stella's Eye 12-28-13
My 5 1/2 year old spayed female Great Pyrenees recently developed a small lump on her lower inner eyelid. I first noticed it about 2 weeks ago and it originally looked like a small film of eye discharge that could be stuck in her eye.


Upon closer examination I found that it was attached to the eyelid. It has since grown slightly larger and has a small irregular (slight cauliflower) appearance.
She is otherwise in good health and it does not seem to bother her, despite being located on the inside and rubbing against her eye.
Her medical history is extensive. She had 2 surgeries for Patella Luxation between age 1 and 2. She also had 3 surgeries for mesenteric torsion. She was born with a congenital abnormality and is missing mesentery on her small intestine, which allowed the torsion to occur.
Her first surgery was at 3 mos and she had approx 30 inches of her small intestine removed. She receives 1cc B12 monthly since she no longer absorbs B12 intestinally.
During the 2nd surgery since there was a 2nd torsion, the vet sutured the intestines to the abdominal wall. She was approximately 2 years old at the second surgery.
The third surgery was exploratory and everything was found to be functioning properly. She has had some gastric upset as a result with food allergies, so she eats a strict diet of fish and potato (Firstmate Senior Fish/Potato mixed with Firstmate Large Breed Fish/Potato) - switched approx 1 month ago from Orijen 6 fish due to the lower phosphorus content of Firstmate.
She has had slight elevation of BUN levels with bloodwork (done approx 6 months ago).
Her stool is normal with only an occasional loose stool (she also take 21st century probiotics daily)and a glucosamine/msm/chondroitin joint pill.
Her personality is very strong willed, despite having some arthritis in her knee, she is active and runs around the yard, guarding our farm. I have not noticed any change in her appetite or thirst.
Please let me know what you think. She was previously seen at VCA South Paws in Fairfax, VA for the intestinal mesenteric torsions. They do have an opthamology department, but I am nervous about anesthesia another time with her.
Thank you so much in advance for reviewing Stella's eye problem!
Want to ask our veterinarians a question but haven't subscribed to My Online Vet? Click here to learn how or click here to go back to the Ask a Vet Online Library of questions.
Want monthly "News You Can Use" and important Organic Pet Digest new content updates? Click here to sign up for our FREE Dog Care Monthly newsletter.
Do you believe in holistic pet care? If so, please tell your friends about us with a Facebook like, Google +1 or via Twitter, Pinterest, email or good old fashioned word of mouth. Thank you for supporting our efforts!
For additional research, search for your topic...
Also see...
Disclaimers: The information contained in this web site is provided for general informational purposes only. It is not intended as nor should be relied upon as medical advice. Rather, it is designed to support, not replace, the relationship that exists between a pet owner/site visitor and his/her local veterinarian(s). Before you use any of the information provided in the site, you should seek the advice of a qualified professional.
In the spirit of full disclosure, we wanted to let you know that we proudly support this website through advertising and affiliate marketing. In other words, when you click on a link that takes you outside of this website, we often earn a small commission. These small commissions allow us to keep the site up and running and to continue offering it completely free of charge to you. Rest assured that all content, recommendations and advice are created before, and are independent of, any sponsorship or affiliate relationship.
Click here
for more info.