Dog with Collapsed, Narrow Trachea
by Rudi P.
(Ocean View, Queensland, Australia)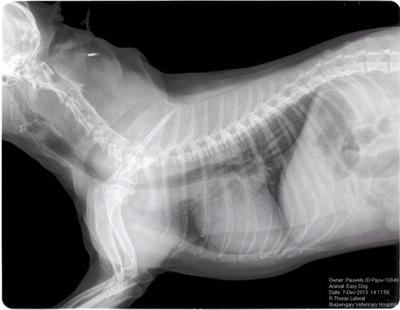 X-Ray #1 - Dog with Collapsed, Narrow Trachea
A few months ago we saw a change in our dog Easy's breathing. We know he snores a lot, but the breathing became heavier, noisier.


We went a few times to local vet clinics, but they mostly said the same... "Little dogs have this breathing issue a lot." That was it.
Because we love our fury little "person", we were not happy with those results.
A month ago we went again to yet another vet. They x-rayed Easy and saw that a part of his trachea was narrow. But they said that with a collapsed trachea, most of the time the dogs will cough. But we never heard him coughing. What he has is reversed sneezing.
Easy is a 6 year old male long haired Chihuahua. He has a good healthy appetite, doesn't drink a lot of water, has a normal colour of poo, plays a lot, but is very quickly out of breath. He suffers from the heat quicker than he used to.
Easy is wearing a harness when we have a walk and has to wear a tick collar and we spray him twice an anti tick spray. We live in Queensland, Australia where it is warm and humid and therefore tick heaven.
Easy licks and swallows a lot and sometimes has bad breath. There is nothing wrong with his teeth according the last vet.
So now Easy has to inhale Flixotide Junior Inhaler. One or two puffs a day. I don't like the fact that this medicine has a low percent of cortisone.
Above you will find two x-ray pictures so you have an idea what the story is.
Easy eats very healthy, lots of veggies, very lean meat, chicken and fish. He prefers raw carrots over nice lean meat.
We just added a supplement to his diet and that is glucosamine.
My questions are as follows:
- Can we restore the cartilage rings in his trachea with natural supplements?
- Is there something else maybe homeopathic we can give easy instead of the Flixotide?
- What do you suggest we could do?
Please could you give us some information / advice to help our little man. He is only 6 years old. It is sad hearing him breathing like that.
I really would appreciate your help.
Thank you very much
Rudy
Want to ask our veterinarians a question but haven't subscribed to My Online Vet? Click here to learn how or click here to go back to the Ask a Vet Online Library of questions.
Want monthly "News You Can Use" and important Organic Pet Digest new content updates? Click here to sign up for our FREE Dog Care Monthly newsletter.
Do you believe in holistic pet care? If so, please tell your friends about us with a Facebook like, Google +1 or via Twitter, Pinterest, email or good old fashioned word of mouth. Thank you for supporting our efforts!
For additional research, search for your topic...
Also see...
Disclaimers: The information contained in this web site is provided for general informational purposes only. It is not intended as nor should be relied upon as medical advice. Rather, it is designed to support, not replace, the relationship that exists between a pet owner/site visitor and his/her local veterinarian(s). Before you use any of the information provided in the site, you should seek the advice of a qualified professional.
In the spirit of full disclosure, we wanted to let you know that we proudly support this website through advertising and affiliate marketing. In other words, when you click on a link that takes you outside of this website, we often earn a small commission. These small commissions allow us to keep the site up and running and to continue offering it completely free of charge to you. Rest assured that all content, recommendations and advice are created before, and are independent of, any sponsorship or affiliate relationship.
Click here
for more info.