Dog Treatment and Prevention of Suspected Interdigital Furuncles
by Sandra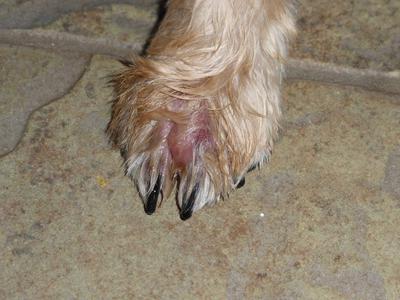 The last several months my dog has been suffering from regular episodes of what I think are interdigital furuncles (?) based on my research. Before I knew about interdigital furuncles, I took him to my vet at that time, and the vet suspected that there may be something foreign inside the paw, and he opened up the abscess but could find nothing.


My dog, Oliver, a three-year-old male (neutered) border terrier, has been very healthy and active. gets these abscesses on both of his front paws in various areas but with regularity. He spent a lot of time licking them until they eventually open up, and disappear. However, some of them are quite painful and he will limp for a day or two. To try and prevent and treat these, I have been giving him an immune strengthener supplement (which was recommended for this condition in an online article) and a half a clove of fresh garlic a day, for about two months now. There seems to be a longer time period between each outbreak but I haven't been keeping up records so I can't say this for sure.
Just yesterday I started him on flaxseed oil for Omega 3's. He gets fed a diet of V-Dog kibble, along with organic sweet potatoes, a variety of vegetables and a bit of olive oil. He also used to get a mixture of Halo Garden Medley can food but he lost his taste for it (and other canned foods that I tried as well). He loves the V-dog kibble!
I will also mention that we live in Phoenix, Arizona and I understand that this condition is more common for dogs that live in this area. I have had him wear boots on walks but this did not change the occurrence of the abscesses.
I am looking for natural ways to prevent these from occurring, with a combination of herbs and/or homeopathic medication. I am also looking for the appropriate treatment when one does occur. Currently I am putting pure aloe vera gel on the abscess. Please find attached two photographs of the abscess and a picture of Oliver. I hope that I have provided enough information for you.
Many thanks.
Want to ask our veterinarians a question but haven't subscribed to My Online Vet? Click here to learn how or click here to go back to the Ask a Vet Online Library of questions.
Want monthly "News You Can Use" and important Organic Pet Digest new content updates? Click here to sign up for our FREE Dog Care Monthly newsletter.
Do you believe in holistic pet care? If so, please tell your friends about us with a Facebook like, Google +1 or via Twitter, Pinterest, email or good old fashioned word of mouth. Thank you for supporting our efforts!
For additional research, search for your topic...
Also see...
Disclaimers: The information contained in this web site is provided for general informational purposes only. It is not intended as nor should be relied upon as medical advice. Rather, it is designed to support, not replace, the relationship that exists between a pet owner/site visitor and his/her local veterinarian(s). Before you use any of the information provided in the site, you should seek the advice of a qualified professional.
In the spirit of full disclosure, we wanted to let you know that we proudly support this website through advertising and affiliate marketing. In other words, when you click on a link that takes you outside of this website, we often earn a small commission. These small commissions allow us to keep the site up and running and to continue offering it completely free of charge to you. Rest assured that all content, recommendations and advice are created before, and are independent of, any sponsorship or affiliate relationship.
Click here
for more info.