The Top 2 Dog Tracking Collars
If you have ever lost your dog, then you understand the importance of dog tracking collars. Even if your dog has never run away from home or strayed from their designated safe area, you never know what might provoke them.
The right dog GPS tracking collars will make finding them much easier and faster. The wrong ones will leave you searching in vain.
Depending on your budget, the two that we think are the best are the...
Astro 220 Dog Tracking System
Retrieva GPS Dog Tracking Collar
Further down this page you'll find our summary of each along with pictures.
Following is a high level comparison...
We like the Retrieva system better due to both its features (get ready to be amazed) and lower price tag, but the DC 30 system is also extremely high quality, easy to use and reliable.
| Feature | Astro 220 | Retrieva |
| --- | --- | --- |
| Cost | About $490 | About 250 Euros (About $350) |
| Tracking sources | GPS Transmitter | GPS Transmitter, telecom & radio frequency |
| What does collar communicate with? | Handheld Astro 220 guidance system | Phone, Internet or hand-held receiver |
| Digital Maps Included | Yes | Yes |
| Weight of Collar | 8.7 oz | 6.5 oz |
| Waterproof | Yes | Yes |
| Rechargeable Battery | Yes | Yes |
| Programmable | Yes | Yes |
| Auto alert via text message | No | Yes |
| Tamper alert buckle | No | Yes |
| Collar made from anti-cut material | No | Yes |
| Cut alert collar | No | Yes |
| Harness version available for very small dogs | No | Yes |
| Contract with Company Required | No | Yes, because of the ability of the system to interact with your cell phone and the Internet |
Astro Dog GPS Tracking Collars
This is one of the most user friendly dog tracking collars on the market.
It operates off of a GPS transmitter and antenna, ensuring the highest possible signal and complete accuracy when tracking the exact location of your dog.
The makers of this dog tracking system, Garmin, have produced millions of automobile GPS systems that are trusted and used all over the world.
Along with reliability, this collar has an excellent manufacturing process that uses only the best materials. It's extremely durable and completely weatherproof, plus so lightweight that your dog will hardly even notice it's on.
The system allows you to pinpoint the exact location of your dog every 5 to 10 to 30 seconds (you choose which one - the longer the interval, the more battery you'll save).
Other important product qualities include:
A high sensitivity GPS receiver and lightweight adapter collar
Seven mile distance range, depending slightly on terrain
Rugged and waterproof design
Rechargeable lithium ion battery plus vehicle power cable
Convenient and easy to use - comes with detailed instruction manual
1-year full warranty on all parts plus a 2-year limited warranty
Click here to purchase the Garmin Astro 220 Dog Tracking GPS Bundle with DC40 Wireless Transmitter Collar.
Retrieva GPS Dog Tracking Collars
While the DC 30 collar above will absolutely get the job done, the qualities of Retrieva's collar are unparalleled by any other dog tracking collar, not to mention the 250 bucks you'll still have in your wallet versus the DC system.
The tracking technology goes above and beyond our expectations, giving you numerous options, a few of which include…
3 different tracking sources including satellite, telecom and radio frequency
Uses a 'sky-view' GPS antenna to optimize performance
Easily programmable allowing you to change operations and report frequencies.
Works all over the world when using the correct SIM card
The Retrieva tracking collar also has amazing security features, which will deter theft of your animal. Some of these security features include:

Has a locking buckle which will alert you via SMS text if it is tampered with
Collar is made from anti-cut material, also wired to send you a SMS text if it is cut in any way
Collar will alert you if you dog roams out of any designated safe area or enters a forbidden area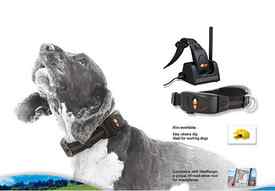 The manufactures did not leave anything out when designing this tracking collar. Some of the design qualities of this collar include:
Programmed and delivered totally 'ready-to-use'
Collar and transmitter are waterproof and dustproof
Adjustable for all dogs ranging in size from small to large
Harness version available for very small dogs
Collar transmitter communicates directly with your phone, Internet or hand-held transmitter
Automatically alerts you with a text message if your dog is out of range or the collar is being tampered with
Unlike other dog tracking collars, the Retrieva system utilizes the technology of your cell phone and Internet. Because of this, a 12 month contract with the company is required.
When you order the Retrieva GPS dog GPS tracking collar you will receive a package including:
One collar or tracker
The ICyou charging system
Award winning ViewRanger off-road phone based mapping system
Up to 10,000 sq km of digital maps
Cost is $249.99 Euros
Available for purchase separately are additional collars, chargers and SMS phones.
Do you believe in holistic pet care? If so, please tell your friends about us with a Facebook like, Google +1 or via Twitter, Pinterest, email or good old fashioned word of mouth. Thank you for supporting our efforts!
New! Comments
Have your say about what you just read! Leave a comment in the box below.
For additional research, search for your topic...
Also see...
Disclaimers: The information contained in this web site is provided for general informational purposes only. It is not intended as nor should be relied upon as medical advice. Rather, it is designed to support, not replace, the relationship that exists between a pet owner/site visitor and his/her local veterinarian(s). Before you use any of the information provided in the site, you should seek the advice of a qualified professional.
In the spirit of full disclosure, we wanted to let you know that we proudly support this website through advertising and affiliate marketing. In other words, when you click on a link that takes you outside of this website, we often earn a small commission. These small commissions allow us to keep the site up and running and to continue offering it completely free of charge to you. Rest assured that all content, recommendations and advice are created before, and are independent of, any sponsorship or affiliate relationship.
Click here
for more info.