Dog Swollen Eyelids
by Jase H.
(Draper, Utah)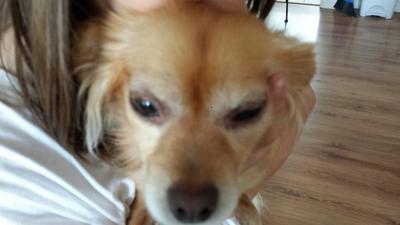 Dog swollen eyelids
Our dog has swollen eyelids right around the edges, sometimes to the point of getting pink (in the picture they are not very pink). His eyes will also produce a lot of water/tearing.


He used to directly scratch them, especially in the morning. Since we've been on his case when he does that, he seems to refrain from directly scratching, but we let him rub his eyes either with his own paws or against something (blanket, us, etc.)
Our dog's swollen eyelids seemed to follow 2 particular events. I don't know which one had to do with it, or if at all.
The first event was a tick that was removed. It was still flat and on the top of the ear within the fur where it was burrowing trying to find a blood source. I may have removed it improperly.
After this event he was taken in to be neutered. Honestly I suspect he picked it up from the place he got neutered.
I've been to a (good) vet and we've treated for everything he can think of. Bacterial, fungal, mites/fleas. Tried different food for a while.
Allergy isn't suspected, since he was fine until the 2 events described above. That was about 3 -4 months after we got him.
He's actually been on about 4 different antibiotics, even a 'good' one I had to order online. The pictures above are one with our dog's swollen eyelids (it's been worse than this picture, especially after much scratching and rubbing). The other pic is him before he picked it up (normal).
Our vet is at a loss. So far the only thing that gives him relief is prednisone. The longest he was on it was at first, but I'll put him on it for only like a week at a time just to get some relief, then try and keep him off for at least a few weeks. When he does take them I break 30 mlg pills in half (so 15 a day).
If I remember correctly, the pills might be only 15 whole, but I don't think so.
I didn't want to get him neutered but were forced to make a story short. The reason I didn't want to get him neutered is because there is a lot more to hormones than reproduction. Places that specialize in spaying and neutering only see it differently of course.
Since it's a steroid (prednisone) that keeps the swelling down, I suspect it may be possible he had it all along, and the removal of his testicles (testosterone) made it surface.
Any ideas would be greatly appreciated.
Want to ask our veterinarians a question but haven't subscribed to My Online Vet? Click here to learn how or click here to go back to the Ask a Vet Online Library of questions.
Want monthly "News You Can Use" and important Organic Pet Digest new content updates? Click here to sign up for our FREE Dog Care Monthly newsletter.
Do you believe in holistic pet care? If so, please tell your friends about us with a Facebook like, Google +1 or via Twitter, Pinterest, email or good old fashioned word of mouth. Thank you for supporting our efforts!
For additional research, search for your topic...
Also see...
Disclaimers: The information contained in this web site is provided for general informational purposes only. It is not intended as nor should be relied upon as medical advice. Rather, it is designed to support, not replace, the relationship that exists between a pet owner/site visitor and his/her local veterinarian(s). Before you use any of the information provided in the site, you should seek the advice of a qualified professional.
In the spirit of full disclosure, we wanted to let you know that we proudly support this website through advertising and affiliate marketing. In other words, when you click on a link that takes you outside of this website, we often earn a small commission. These small commissions allow us to keep the site up and running and to continue offering it completely free of charge to you. Rest assured that all content, recommendations and advice are created before, and are independent of, any sponsorship or affiliate relationship.
Click here
for more info.