Dog skin rash in red patches and hair loss, back part of body
by Nathalie & Ben
(Zambia)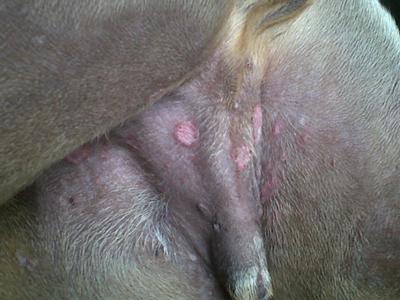 First of all congratulation on your very informative and helpful website! Thanks for being out there. We hope you don't mind receiving questions from a remote part of Zambia, but here we go.


Bob, our Rhodesian Ridgeback of 16 months old, and us are fortunate enough to live in a remote, wildlife rich area of Zambia. We are surrounded by indigenous bush and live amongst elephants, giraffes, baboons and other wildlife. Bob roams around our house, gardens and bush and his favorite activity is chasing the baboons off his patch or rolling around in the sand. Needless to mention he is an active dog, who gets plenty of exercise. With the ever changing seasons in the bush and the variety of wildlife and animal droppings, a heaven for sniffing and tracking by our friend Bob.
About a month ago we noticed small bumps under his coat, all over his back, sort of looking like chicken pox, without being red, troubling or itching him. We put this down to him lying in the grass and dust and maybe being bitten by the tiny ants found everywhere. When this persisted we noticed to be mixing tinned food containing liver with his dry dog food and thought this might be causing a slight reaction.
Over the weeks, however especially the groin area and inside his rear legs developed big round red patches and on other places white patches. Again this does not seem to bother him much, but over the past days he started licking the area more often. He never had much hair on the inside of his legs (both front and rear) but we do have a feeling definitely more hair has been lost on that rear area.
The patches are not oozing liquid as we can see it, but more look like being raw and slightly swollen. It may look like a blister of some sort, but does not contain liquid. On some areas where it seems to be healed, his skin shows white patches which maybe show a healed skin? On those healed areas we can see some hair starting to grow again.
Especially the patches are around his groin area and on his lower stomach, nowhere near the face or front area of his legs.
He is as sweet of a dog as always, still very active and in that respect has not changed his behavior. We most certainly check his gums for tick bite fever (he gets
a tick dip ever 1-2 weeks and any ticks on him are dead already and removed daily). Same brand since the beginning. Sleeping sickness (caused by Tsetse flies) is profound in this area and we are very aware of this. He is being treated with a repellent since he was a puppy and we know the signs of this disease, which is not it. With his irritation and it not being the season for flies we have held off with putting repellent on.
We have suspected food or different vegetation to be causing this skin irritation, but by writing you just wish to make sure. Unfortunately a veterinarian is not found within a 5 hours distance from where we live and the standards there are not comparing to Western World services.
Another problem in Zambia is the choice in food. We cannot always find the same dog food and mix the dry food to whatever brand is available. By doing research on your site, we noticed your remarks to only feed him dry food, mixed with a few spoons of tin food twice daily might not be sufficient. We sometimes give him chicken, a raw egg (stopped since reading your site) and a few drops of olive oil as well. Any off cuts of steak etc are mixed in. He loves chewing fresh cow bones bought at a butchery, nothing changed in there.
Would you kindly let us know your opinion? We are more aware now to combine dry food with tinned food and have started to search only for Pedigree pellets and stock up in bulk for him. This morning his legs look better then yesterday and it always seems to increase after feeding him. To change his diet and follow some tips already found with you, we gave him oatmeal with tinned food this morning which he loved. He is a good eater, finishes his bowl in 5 minutes and shows no loss of appetite or play.
So are we on the right track in thinking this is food related, or is there something more serious going on? Mange, ringworm or something else.
He is due his de-worming and yearly injections this month, so those cannot be causing the irritation. He was neutered last December. Any injections due are given by us after receiving your feedback.
Thanking you very much indeed and looking forward to your response.
Warm greetings from Zambia and a slobber from Bob.
Ben & Nathalie
Want to ask our veterinarians a question but haven't subscribed to My Online Vet? Click here to learn how or click here to go back to the Ask a Vet Online Library of questions.
Want monthly "News You Can Use" and important Organic Pet Digest new content updates? Click here to sign up for our FREE Dog Care Monthly newsletter.
Do you believe in holistic pet care? If so, please tell your friends about us with a Facebook like, Google +1 or via Twitter, Pinterest, email or good old fashioned word of mouth. Thank you for supporting our efforts!
For additional research, search for your topic...
Also see...
Disclaimers: The information contained in this web site is provided for general informational purposes only. It is not intended as nor should be relied upon as medical advice. Rather, it is designed to support, not replace, the relationship that exists between a pet owner/site visitor and his/her local veterinarian(s). Before you use any of the information provided in the site, you should seek the advice of a qualified professional.
In the spirit of full disclosure, we wanted to let you know that we proudly support this website through advertising and affiliate marketing. In other words, when you click on a link that takes you outside of this website, we often earn a small commission. These small commissions allow us to keep the site up and running and to continue offering it completely free of charge to you. Rest assured that all content, recommendations and advice are created before, and are independent of, any sponsorship or affiliate relationship.
Click here
for more info.