Dog skin problems on back, neck, paw pads, ears, belly and front legs - bald spots, rash, bumps
by Greg
(Sarasota ,Florida)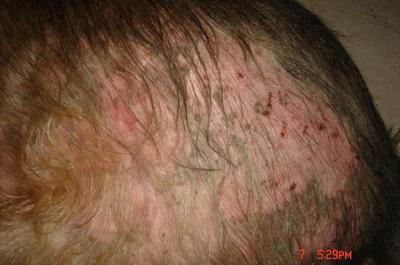 Sam's back months ago... this is how it started. This area is now 95% healed.
My name is Greg and the patient's name is Sam, an almost 8 years old male Collie. We have had him since he was 6 weeks old and he has always been a healthy dog.


He never had any problems till about a year and a half ago when we noticed a little bump on his left foot. No hair was growing there but it was small and vet said just keep an eye on it.
All this time we lived in the State of Illinois close to the Wisconsin boarder. One year plus ago, in May 2011, we moved here to Sarasota Florida. Right around the time of move to Florida Sam's bump started to get bigger and he was licking it a lot. So after we unpacked we took him to the vet and they removed the bump and tested it for cancer. The test came back negative and we were hoping it was the end of Sam's health issues.
Well, a year ago in September 2011 he started smelling bad. We took him for grooming and we were informed that he has a serious skin problem. The vet took a look and Sam got his first round of antibiotics and steroids which did not work very well.
The second round did not work well either, so we changed vets. The next vet gave more antibiotics, itching shampoos, skin sprays and so on. Very little improvement was noticed but as soon as this round of medication was done it all came back.
Sam's skin problem started on his back. Now his back is OK but the problem is in the front on his neck, paw pads, ears, belly and bad bald spots on his front legs. We not sure if that growth that was removed had anything to do with it.
We have tried different foods to eliminate food allergies. Water he gets only from a big bottle /water dispenser.
At first he was scratching like crazy and like I mentioned his biggest problem was on his back and his ears were clear, but now the scratching is very low and his back is fine. The problem moved to the front.
His ears look like yeast infection, something he never had so we are not sure if this is two different problems or one big problem.
He is on mix of dry and can food, he has appetite and energy ,still smells and his stool looks normal. We also have a second dog, Maja, a 5 year old female lhasa poo and she never caught anything from Sam. They have been together for this whole problem year.
Please help!
Thanks, Sam and family
Want to ask our veterinarians a question but haven't subscribed to My Online Vet? Click here to learn how or click here to go back to the Ask a Vet Online Library of questions.
Want monthly "News You Can Use" and important Organic Pet Digest new content updates? Click here to sign up for our FREE Dog Care Monthly newsletter.
Do you believe in holistic pet care? If so, please tell your friends about us with a Facebook like, Google +1 or via Twitter, Pinterest, email or good old fashioned word of mouth. Thank you for supporting our efforts!
For additional research, search for your topic...
Also see...
Disclaimers: The information contained in this web site is provided for general informational purposes only. It is not intended as nor should be relied upon as medical advice. Rather, it is designed to support, not replace, the relationship that exists between a pet owner/site visitor and his/her local veterinarian(s). Before you use any of the information provided in the site, you should seek the advice of a qualified professional.
In the spirit of full disclosure, we wanted to let you know that we proudly support this website through advertising and affiliate marketing. In other words, when you click on a link that takes you outside of this website, we often earn a small commission. These small commissions allow us to keep the site up and running and to continue offering it completely free of charge to you. Rest assured that all content, recommendations and advice are created before, and are independent of, any sponsorship or affiliate relationship.
Click here
for more info.