Dog skin lesions on leg, chest and underside that start with a white crust on top & come and go (Part 2)
by Gina F.
(Guaynabo, Puerto Rico)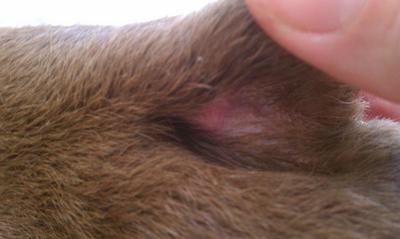 In response to my original question "Dog skin lesions on leg, chest and underside that start with a white crust on top & come and go"


Regarding Dr. Carol Jean Tillman's Plan:
1. He has a bed to lay on which he uses at night but during the day he mostly lays on tile floor which is what we had in our last home.
2. He has been on Raw diet since I got him at 2 month old. I feed him 1 lb of raw meat a day different protein everyday. I also use Sojos original and grain free to add grains and fruit n veggies and will add fresh fruits and veggies from the local farmer market also. To his diet I also supplement with Missing Link.
3. I have not vaccinated him since he was 1 years old.
And unfortunately I live in Puerto Rico and don't have access to a Holistic vet.
Today I found some red bumps in between his toes as well, in three different paws. Could this be related?
Want to ask our veterinarians a question but haven't subscribed to My Online Vet? Click here to learn how or click here to go back to the Ask a Vet Online Library of questions.
Want monthly "News You Can Use" and important Organic Pet Digest new content updates? Click here to sign up for our FREE Dog Care Monthly newsletter.
Do you believe in holistic pet care? If so, please tell your friends about us with a Facebook like, Google +1 or via Twitter, Pinterest, email or good old fashioned word of mouth. Thank you for supporting our efforts!
For additional research, search for your topic...
Also see...
Disclaimers: The information contained in this web site is provided for general informational purposes only. It is not intended as nor should be relied upon as medical advice. Rather, it is designed to support, not replace, the relationship that exists between a pet owner/site visitor and his/her local veterinarian(s). Before you use any of the information provided in the site, you should seek the advice of a qualified professional.
In the spirit of full disclosure, we wanted to let you know that we proudly support this website through advertising and affiliate marketing. In other words, when you click on a link that takes you outside of this website, we often earn a small commission. These small commissions allow us to keep the site up and running and to continue offering it completely free of charge to you. Rest assured that all content, recommendations and advice are created before, and are independent of, any sponsorship or affiliate relationship.
Click here
for more info.