Dog Skin Infections & Allergies
by Rachel
(Perth, WA)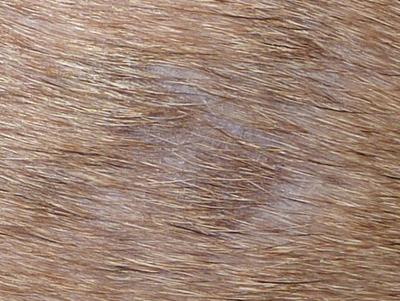 Dog Bacterial Skin Infection / Allergies - Photo 1
Since 6 months of age my dog started showing signs of allergies. The first one we confirmed was food allergies, then as she got older I also figured out she had contact allergies and atopy allergies.


The problem lately is her long list of things she is allergic to, but up until now I have kept her pretty healthy and happy. Just recently she has had shorter periods of what I would call 80% allergies skin condition free.
Unfortunately Storm has had a recurring or secondary bacterial skin infection. In the past when this has happened I have given a 4 week dose of antibiotics (noroclav) - 1 1/2 morning and night. We recently upped to 2 zertec in the morning and night which did the trick until recently.
I now am back on another 6 week course of noroclav - same dose in the morning and night - but we are now 10 days in and no sign of improvement at all.
I have racked my brain - nothing else has changed. She lives inside and is in a controlled environment.
I just really hope you have some ideas for Storm. who is a Bullmastiff - she is not purebred so could be a little cross as well.
Lymph node biopsies and tissue biopsies done at the end of 2013 all came back with no real answers. Her cancer didn't return and all else the report said led to no real answers.
I was hoping for some answers considering what she went through to get the biopsies, but just the same old conclusion.
She has an underlying allergic reaction to something which in her case could be anything. She is one sensitive girl and it doesn't take much to set her off. This is why I am soooooo over the top careful.
I have read over and over both of her vetpath reports one from 2011 when the mast cell tumor grade 2 on her rear leg was removed and Dermatophytic furunculosis removed from her lower back and the other one in 2013 was the lymph node and tissue biopsies. Just hoping the vets over looked something the report.
Well I think that is just about everything. I hope you have some ideas for me and Storm. I know she is a very hard case to solve or try to manage but I am running out of options. I'm hoping to try some new avenues for her.
Thanks, Rachel
Want to ask our veterinarians a question but haven't subscribed to My Online Vet? Click here to learn how or click here to go back to the Ask a Vet Online Library of questions.
Want monthly "News You Can Use" and important Organic Pet Digest new content updates? Click here to sign up for our FREE Dog Care Monthly newsletter.
Do you believe in holistic pet care? If so, please tell your friends about us with a Facebook like, Google +1 or via Twitter, Pinterest, email or good old fashioned word of mouth. Thank you for supporting our efforts!
For additional research, search for your topic...
Also see...
Disclaimers: The information contained in this web site is provided for general informational purposes only. It is not intended as nor should be relied upon as medical advice. Rather, it is designed to support, not replace, the relationship that exists between a pet owner/site visitor and his/her local veterinarian(s). Before you use any of the information provided in the site, you should seek the advice of a qualified professional.
In the spirit of full disclosure, we wanted to let you know that we proudly support this website through advertising and affiliate marketing. In other words, when you click on a link that takes you outside of this website, we often earn a small commission. These small commissions allow us to keep the site up and running and to continue offering it completely free of charge to you. Rest assured that all content, recommendations and advice are created before, and are independent of, any sponsorship or affiliate relationship.
Click here
for more info.