Dog scratching with red, swollen and bumpy skin
by Lesley
(Penticton, BC, Canada)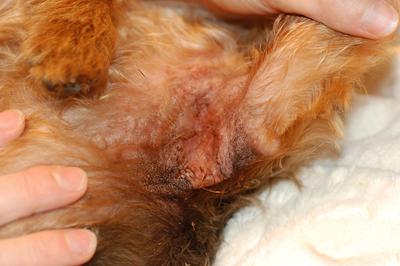 Our Yorkie terrier Jesse started scratching a lot about a month ago. But she has always scratched quite a bit.


Two vets, of a few that we have tried, suggested that - because she primarily scratches the forward part of her body - she may have environmental allergies. We learned early on that lambs skin does make her scratch more.
We have tried different herbs in trying to help her normal level of scratching, but nothing really has helped. One intuitive suggested it may be our carpets that she is allergic to.
So about a month the scratching got a lot worse. And under her front arms things got really red and swollen and then it broke out further in a rash across her chest. And also along part of her spine bumps appeared.
We took her to two vets - one is a holistic vet and she gave us some things - a homeopathic called Allergen, a spray called DOUXO Calm Micro-emulsion. I stopped these after two days because things were getting a lot worse not better.
Instead I started putting cotton soaked in colloidal silver on it during the day and night (we've kept it wrapped in a tensor bandage except for walks as otherwise she scratches and licks it. At night I put infrared light and blue light on it.
It started getting better - the one side healed, the rash healed, the bumps along her spine went away. Just the one side is being really stubborn. So then I found your website and I switched to putting really good quality aloe vera on it and she no longer let's me use the light on her.
Any help would be great!! Thank you so much for this service. We are very much a holistic household.
Want to ask our veterinarians a question but haven't subscribed to My Online Vet? Click here to learn how or click here to go back to the Ask a Vet Online Library of questions.
Want monthly "News You Can Use" and important Organic Pet Digest new content updates? Click here to sign up for our FREE Dog Care Monthly newsletter.
Do you believe in holistic pet care? If so, please tell your friends about us with a Facebook like, Google +1 or via Twitter, Pinterest, email or good old fashioned word of mouth. Thank you for supporting our efforts!
For additional research, search for your topic...
Also see...
Disclaimers: The information contained in this web site is provided for general informational purposes only. It is not intended as nor should be relied upon as medical advice. Rather, it is designed to support, not replace, the relationship that exists between a pet owner/site visitor and his/her local veterinarian(s). Before you use any of the information provided in the site, you should seek the advice of a qualified professional.
In the spirit of full disclosure, we wanted to let you know that we proudly support this website through advertising and affiliate marketing. In other words, when you click on a link that takes you outside of this website, we often earn a small commission. These small commissions allow us to keep the site up and running and to continue offering it completely free of charge to you. Rest assured that all content, recommendations and advice are created before, and are independent of, any sponsorship or affiliate relationship.
Click here
for more info.