Dog Rope Toys Reviews : Toxin-Free, Durable & Safe?
Dog rope toys are simple in construction and can provide hours of entertainment for your dog both with you and when alone.
The primary aspects to consider when shopping for the right dog rope toy are the material the toy is made from and the durability of that material.
Here are our favorite two that you can trust and your dog will love...
Earthdog Hemp Dog Rope Toys
The Earth Dog Hemp Rope is made from 100% hemp, which means it's perfectly safe for your dog to chew and play with.
This hemp rope has a simple braided design with two knotted ends to help your dog get a good grip. Hemp is a very strong natural material that is well suited for either small dogs or big dogs who love to pull and chew extra hard.
Because we at Organic Pet Digest care about preserving our environment, we wanted to tell you just a few quick facts about hemp:
Grown pesticide/herbicide- free
Hypoallergenic
100% biodegradable
Longer, stronger, more absorbent than cotton fiber
Farming only 6% of the US with hemp could produce enough energy to end America's dependence on fossil fuels
Hemp has no illicit use
The cost of the Earth Dog Hemp Rope Toy depends on the size you choose: The small size is $10.99 and the large is $15.99.
Good Karma Rope Toys
Talk about adorable… these Good Karma rope toys come in tons of animal styles with attractive colors and also support a great cause!
Part of the proceeds of each sale will go to benefit the Rescue Train Organization. So make your dog happy with a new dog rope toy and help save the life of a rescue dog all with the small purchase of a Good Karma rope toy.
These Good Karma Rope Toys are: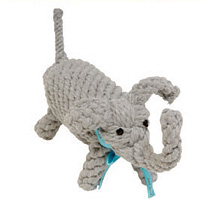 Nominated by numerous magazines as one of the top dog toys
Made from 100% natural dyed cotton thread and hand tied
17 different styles available and each come with a story of how it was rescued
Chewing this toy improves dog dental health
Available in two sizes
Price is $14 - $16
Do you believe in holistic pet care? If so, please tell your friends about us with a Facebook like, Google +1 or via Twitter, Pinterest, email or good old fashioned word of mouth. Thank you for supporting our efforts!
New! Comments
Have your say about what you just read! Leave a comment in the box below.
For additional research, search for your topic...
Also see...
Disclaimers: The information contained in this web site is provided for general informational purposes only. It is not intended as nor should be relied upon as medical advice. Rather, it is designed to support, not replace, the relationship that exists between a pet owner/site visitor and his/her local veterinarian(s). Before you use any of the information provided in the site, you should seek the advice of a qualified professional.
In the spirit of full disclosure, we wanted to let you know that we proudly support this website through advertising and affiliate marketing. In other words, when you click on a link that takes you outside of this website, we often earn a small commission. These small commissions allow us to keep the site up and running and to continue offering it completely free of charge to you. Rest assured that all content, recommendations and advice are created before, and are independent of, any sponsorship or affiliate relationship.
Click here
for more info.