Dog Paws Red On Top with Black Crusty Paw Pads
by Jennifer Schmitt
(Orange County, California)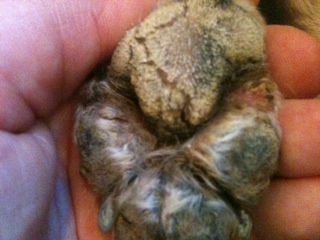 front paw
In August of 2012 my dog seemed to develop a great deal of pain. He was vomiting and having trouble walking. His ears were full of wax, so I took him to the vet, thinking an extreme ear infection was causing his symptoms.


The vet diagnosed yeast in the ear and prescribed Otomax for both ears. By the end of the month, the ears were clear (and continue to be clear) but I noticed that he had developed a habit of licking his feet. Upon inspection, I discovered that his feet were no longer soft, but red on the top, and covered with crusty, black calluses on the bottoms. His elbows were also covered with black crusty spots. He had also begun licking his penis area and the skin was red, sore and you guessed it, more black crust.
I did some research and decided that it might be more yeast problems. He had also been less interested in eating, for the last 6-8 months. I chalked it up to his age, at the time, but surmised that maybe his diet was to blame.
I started him on a combination of whole foods and grain-free kibble. I included, broccoli, garlic, parsley, and chicken or beef. I also gave him a tablespoon or so of Kafir each day. He seemed to perk up, considerably, on the new diet. No more vomiting, plenty of appetite.
In addition, I began to bathe his feet in warm water, Epsom salts, and peroxide. I also tried a tea-tree oil spray I discovered at the local Petsmart. He continued to lick his feet until they were raw in places.
I covered his feet in baby socks to eliminate the licking, he simply moved onto his forelegs and sometimes his anal area. While the feet were covered, the thick calluses grew thicker. On the
tops of his paws the skin around the nails seems to be drawing back, making the nails look longer and became thick and black. After a month I gave up and took him into the vet.
Her words were, "Oh my" when she saw his feet. They soaked and debrided the paws and elbows, pulling of a great deal of the dead, callused skin. She prescribed a course of Ketoconazole 100mg/day. Simplicef 100mg/day. And a foot bath every other day with Malaseb shampoo applied directly to the feet. That was on 10/13/12.
After 4 weeks I revisited the vet. His feet were considerably more clear, He was walking, wagging his tale, and seemingly a happy pup.
OK fast forward to December. I continue the foot baths and the diet, but in the last 2 weeks the licking has started up again and his feet look worse than ever. The black spots are smaller, but the skin raw and today I noticed bleeding. In addition, the ends of his ears, which have always been soft, have begun to develop little black clumps.
I am afraid that my dog is dying. He sleeps all day and night and when he's awake, the licking. His winter coat hasn't thickened up, so he's also cold all the time if he's not wearing a coat and swathed in blankets (we live in Southern California!).
The vet mentioned autoimmune disease, but I am extremely reluctant to put the dog on endless courses of steroids, which I believe have other undesirable side effects.
Shiloh is a neutered, male beagle. He is approx 12 years old. He was a rescue, so we are only able to estimate his age.
Tags: Paws: Red Skin on Paws; Paws: Paw Pads: Black Crusty Paw Pads; Behavioral: Sleeps a lot; Underside: Sheath/Penis Area: Red, Sore, Black Crust; Elbows: Black Crust
Want to ask our veterinarians a question but haven't subscribed to My Online Vet? Click here to learn how or click here to go back to the Ask a Vet Online Library of questions.
Want monthly "News You Can Use" and important Organic Pet Digest new content updates? Click here to sign up for our FREE Dog Care Monthly newsletter.
Do you believe in holistic pet care? If so, please tell your friends about us with a Facebook like, Google +1 or via Twitter, Pinterest, email or good old fashioned word of mouth. Thank you for supporting our efforts!
For additional research, search for your topic...
Also see...
Disclaimers: The information contained in this web site is provided for general informational purposes only. It is not intended as nor should be relied upon as medical advice. Rather, it is designed to support, not replace, the relationship that exists between a pet owner/site visitor and his/her local veterinarian(s). Before you use any of the information provided in the site, you should seek the advice of a qualified professional.
In the spirit of full disclosure, we wanted to let you know that we proudly support this website through advertising and affiliate marketing. In other words, when you click on a link that takes you outside of this website, we often earn a small commission. These small commissions allow us to keep the site up and running and to continue offering it completely free of charge to you. Rest assured that all content, recommendations and advice are created before, and are independent of, any sponsorship or affiliate relationship.
Click here
for more info.