Dog paw fungus and rash
by Giovanni Figueroa
(San Juan, Puerto Rico)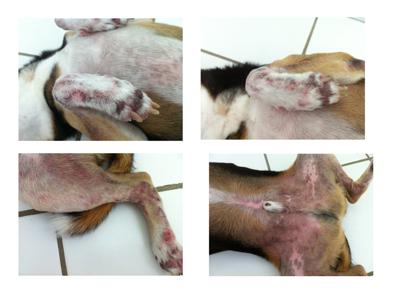 pictures of gizmo taken today
My dog, Gizmo, has lived in the United States with my parents most of his life. About a year ago my parents sent him to live here in Puerto Rico with me because they couldn't take care of him anymore.


He is an 11 year old mix breed dog. Here in Puerto Rico it is very humid and there are a lot of allergens in the air and so forth. About 4 months after Gizmo got here his paws started itching a lot, then he started losing a lot of hair in his paws especially on the knuckles of the paws. They got red, swollen and the padding at the bottom of the paws started growing out abnormally outwards towards the side of his paws.
I took him to the vet and he said this is fairly normal here in Puerto Rico. Sadly, because of the humidity dogs get this a lot here. Its a fungus, he said.
To be sure what it was, he ran full test on the dog a to make sure his immune system was ok and that he didn't have any parasites or any other problems. All the blood test and other test he did came out great. Dog got a clean bill of health.
So the vet started giving me the medicine for the fungus, the medicine they gave him was:
Ketoconazole 200mg
Dexamenthasone SP per ML
In the follow up visits he also gave me:
Sebozole shampoo with miconazole nitrate 2% and Chloroxylenol 1% bathe him once every 5-7 days with this.
Chlorhexiderm flush to wash out affected areas once a day.
Mometamax topical cream place this on affected areas once a day after cleaning affected areas with the flush.
All this combined over a 4-5 month period seemed to have helped. Although Gizmo kept on scratching himself and gnawing on his paws it was considerably less, the swelling and redness went down and the hair started growing back in the sore areas.
It didn't get cured 100% but got much better. The doctor said it would take time to cure completely but we could stop the meds and just make sure to keep his paws dry and clean and continue to bathe him regularly, about once every 2 weeks with the shampoo.
I did this but about a week after we stopped him on the meds
Gizmo started biting his paws aggressively again and scratching like crazy. I continued to bathe him and keeps his paws clean after each time I took him out for a walk and waited.
Now a month later he is even worse then what he was when the fungus was before at its worse. It has spread to his belly and I think continues to spread through his body. The abnormal growth of the padding on the bottom of his paws is not as bad as it was before, its mostly stopped but everything else has come back.
I am asking here instead of going back to vet because I believe that the meds the vet gave him just dealt with the symptoms but not the problem. I have been reading on your site the options for skin rash and allergies, even though its a fungus caused by the environment.
And I have made changes to his diet. I always fed Gizmo good food that had omega 6 and so forth, but now changed to a holistic food I found at the pet store for him called Ifinia and got him an oatmeal and baking soda shampoo. I have been feeding him this food for about a week and a half.
I want to know what else can be done to deal with this fungus. My brother also lives here in Puerto Rico and he told me his golden retriever also had it for many years before he passed away. Apparently it took about two years for my brother's golden retriever to be cured and even then when the weather got really bad the fungus would come back slightly.
I have talked to other dog owners with the same problem and they all say the same thing, that my dog will be struggling with this for the rest of his life. I would not like that to happen if I can do anything about it, I want him to be able to be cured if there is anyway possible to do it.
He is at the point where he scratches himself till he bleeds. I have put the E-collar on him sometimes when it gets bad but I can only put that on him for so long and again that is not dealing with the problem.
If you have any suggestions please let me know. Thank you.
Want to ask our veterinarians a question but haven't subscribed to My Online Vet? Click here to learn how or click here to go back to the Ask a Vet Online Library of questions.
Want monthly "News You Can Use" and important Organic Pet Digest new content updates? Click here to sign up for our FREE Dog Care Monthly newsletter.
Do you believe in holistic pet care? If so, please tell your friends about us with a Facebook like, Google +1 or via Twitter, Pinterest, email or good old fashioned word of mouth. Thank you for supporting our efforts!
For additional research, search for your topic...
Also see...
Disclaimers: The information contained in this web site is provided for general informational purposes only. It is not intended as nor should be relied upon as medical advice. Rather, it is designed to support, not replace, the relationship that exists between a pet owner/site visitor and his/her local veterinarian(s). Before you use any of the information provided in the site, you should seek the advice of a qualified professional.
In the spirit of full disclosure, we wanted to let you know that we proudly support this website through advertising and affiliate marketing. In other words, when you click on a link that takes you outside of this website, we often earn a small commission. These small commissions allow us to keep the site up and running and to continue offering it completely free of charge to you. Rest assured that all content, recommendations and advice are created before, and are independent of, any sponsorship or affiliate relationship.
Click here
for more info.