Dog Mange or Allergy?
by Gail
(Palm Desert, CA)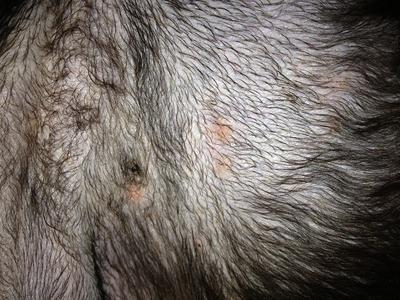 rash on Abby's abdomen
Is it possible to tell the difference between a dog allergy and mange from a picture of the rash? I had my 2 yr old Standard Poodle, Abby, to the vet about a month ago--Oct. 15th. She was very itchy - scratching and biting her flanks, abdomen and the front of her front legs and had a slight rash on her abdomen.


I had her in about a month before that (Sept 9th) for an ear infection and she was given an injection. I don't remember what it was and it is only listed as an injection on my bill. When I had her in on Oct. 15th the vet said it could be allergies or it could be mange and that it was best to treat her for mange before starting on the allergy route.
He gave her an injection of ivermectin and I returned a week later for a recheck. She was still itchy but not as bad. He recommended revolution for her and my other dog at home (a miniature poodle). I gave them both revolution and repeated it in 2 weeks per his instructions.
My other dog (Mia) has been slightly itchy but no rash and not as bad as the Standard. They seemed to be getting better and the rash disappeared but it has just returned.
I have included a couple pictures of the rash on Abby my Standard and a picture of red skin where my miniature Mia has been scratching.
Do you believe that the ivermectin and the revolution would have cleared up the mange if it had been
mange and that they probably have an allergy (I have ordered a Nutriscan test from Dr. Jean Dodds for my Standard to check food intolerances), or could it still be mange?
My concern is that we are to go to my daughter's for Thanksgiving but she has 3 dogs and I do not want to take my dogs there if there is a chance that they have mange.
The rash has never gotten any worse than what you see in the picture. There is no crusty skin although I did notice a little dandruff.
They are both on a raw diet and get ground beef, ground turkey, steak, chicken mixed with Honest Kitchen dinner mix or See Spot Live Longer dinner mix.
Abby is due this month for her yearly vaccine and I will do a titer rather than vaccinate. I did a titer on my miniature when she was due for her last yearly vaccine rather than have her vaccinated.
Abby (the one with the rash) is also very thin. She is only 31 lbs and not at all interested in eating although she does eat between 20 and 24 oz of meat plus dinner mix a day. She is a very active dog and also a nervous dog so that may be why she does not put weight on. The miniature loves to eat!
I guess my question is can you say that it is likely not mange or is there a chance that it is mange and the medication has not cleared it up? And if it is, should I continue to use revolution?
Want to ask our veterinarians a question but haven't subscribed to My Online Vet? Click here to learn how or click here to go back to the Ask a Vet Online Library of questions.
Want monthly "News You Can Use" and important Organic Pet Digest new content updates? Click here to sign up for our FREE Dog Care Monthly newsletter.
Do you believe in holistic pet care? If so, please tell your friends about us with a Facebook like, Google +1 or via Twitter, Pinterest, email or good old fashioned word of mouth. Thank you for supporting our efforts!
For additional research, search for your topic...
Also see...
Disclaimers: The information contained in this web site is provided for general informational purposes only. It is not intended as nor should be relied upon as medical advice. Rather, it is designed to support, not replace, the relationship that exists between a pet owner/site visitor and his/her local veterinarian(s). Before you use any of the information provided in the site, you should seek the advice of a qualified professional.
In the spirit of full disclosure, we wanted to let you know that we proudly support this website through advertising and affiliate marketing. In other words, when you click on a link that takes you outside of this website, we often earn a small commission. These small commissions allow us to keep the site up and running and to continue offering it completely free of charge to you. Rest assured that all content, recommendations and advice are created before, and are independent of, any sponsorship or affiliate relationship.
Click here
for more info.