Dog Holding Left Back Leg Up - Back Leg Is Swollen with Knotted Muscle
by Mary Garcia
(Worcester, MA, USA)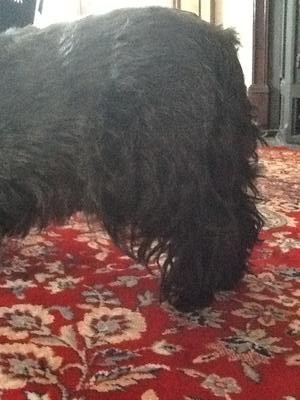 Emma's Back Leg
At the beginning of January we noticed our dog Emma was holding her left back leg up when she would first get up, and that has progressively gotten worse.


At first they thought it was her paw, and it appeared a little bit swollen so they gave us Rimedyl. Then it got a bit worse and another vet said her musculature was great, but she had "crunchiness" in her foot and a little bit in her low back, and suggested meds (different ones). The also suggested that she loose some weight.
Okay, she has lost a few pounds, maybe three (was 33 pounds and now is close to 30 or a bit less). Her lameness is now worse. I cannot walk her outside the yard.
I have become very frustrated. I have arthritis and it doesn't just suddenly appear. I closely monitor my dog's because one has subluxing knees and has always required attention (he is 13 & has had a lot of issues his whole life) so I do the same with Emma.
That being said, I have tried to gently move her joints before we go down stairs and decided the other day to massage the big muscle running down the outside of the left back leg. There was a knot in it so I massaged that and it was the first time I got an indication of something wrong other than her not using that leg.
When I massaged the knot her leg started to shake as if it were painful so I guess I am wondering if this maybe a muscle problem by itself, or, geez, I don't know. I just hate taking her to the vet and leaving with a big question mark and a bag of meds.
Can you suggest a plan? Thank you.
P.S. Emma is a 8 1/2 yr. old Scottie. We had a big gathering at Christmas including our grandchildren ages 5 and 2 1/2. The kids are kind of rough at times and we have caught the littlest kicking at Emma.
We also are hosting foreign high school students who are klutzy & have accidentally stepped on or into Emma-actually since she is black we all have occasionally not seen her since we first got her.
Want to ask our veterinarians a question but haven't subscribed to My Online Vet? Click here to learn how or click here to go back to the Ask a Vet Online Library of questions.
Want monthly "News You Can Use" and important Organic Pet Digest new content updates? Click here to sign up for our FREE Dog Care Monthly newsletter.
Do you believe in holistic pet care? If so, please tell your friends about us with a Facebook like, Google +1 or via Twitter, Pinterest, email or good old fashioned word of mouth. Thank you for supporting our efforts!
For additional research, search for your topic...
Also see...
Disclaimers: The information contained in this web site is provided for general informational purposes only. It is not intended as nor should be relied upon as medical advice. Rather, it is designed to support, not replace, the relationship that exists between a pet owner/site visitor and his/her local veterinarian(s). Before you use any of the information provided in the site, you should seek the advice of a qualified professional.
In the spirit of full disclosure, we wanted to let you know that we proudly support this website through advertising and affiliate marketing. In other words, when you click on a link that takes you outside of this website, we often earn a small commission. These small commissions allow us to keep the site up and running and to continue offering it completely free of charge to you. Rest assured that all content, recommendations and advice are created before, and are independent of, any sponsorship or affiliate relationship.
Click here
for more info.