Dog has black scabs on back, bumpy spots on side & "black dirt" on tummy
by Barbara
(Miami, FL)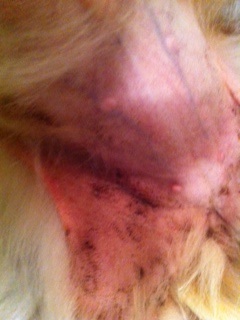 Summer's Belly
My dog ummer and I moved here from Utah in April 2011. We have been struggling with fleas since we arrived. In the last month she has developed this skin condition. I am (of course) worried sick about her. She is a 4.5 lb Papillon. 7 YOA.


Right now - the ridge line of her backbone has dry scabby places all along it. Black scabs. Her side has bumpy spots with light scabbing. Her tummy has what looks like black dirt, but won't wash off. Spots and some scabbing.
I have tried many things to address the fleas and am worried that something I am doing is contributing to the condition.
We have tried Frontline - used twice total (could that cause the scabbing?). Haven't used for over 3 weeks.
Have taken her to the groomer a few times - don't know what shampoo they use. Once flea dip and once medicated.
Have used two shampoos myself. Sergeant's Toy Breed Flea and Tick Shampoo and Aroma Paws Luxury Dog Shampoo and Conditioner - chemical free, organic honey, colloidal oatmeal, pro vitamin b5 - sensitive skin formula; ... etc.
The house has been professionally exterminated along with the yard. My mother's house and yard (where Summer stays sometimes) have also been exterminated. She has two cats that do suffer from fleas.
Recently dusted the house with diatamacious earth - food grade. We seem to be ahead of the flea problem, but the skin condition is scaring me.
I have used aloe vera on her tummy to soothe the itching and redness. That seems to have helped a little.
She eats a high quality raw diet (Darwins) and is otherwise pretty healthy. I adopted her at the age of 4 and she was having severe tooth and gum problems, but we are well past that.
I don't really want to get going on injections of steroids, antibiotics and other harsh drugs, but I will if she needs it.
Want to ask our veterinarians a question but haven't subscribed to My Online Vet? Click here to learn how or click here to go back to the Ask a Vet Online Library of questions.
Want monthly "News You Can Use" and important Organic Pet Digest new content updates? Click here to sign up for our FREE Dog Care Monthly newsletter.
Do you believe in holistic pet care? If so, please tell your friends about us with a Facebook like, Google +1 or via Twitter, Pinterest, email or good old fashioned word of mouth. Thank you for supporting our efforts!
For additional research, search for your topic...
Also see...
Disclaimers: The information contained in this web site is provided for general informational purposes only. It is not intended as nor should be relied upon as medical advice. Rather, it is designed to support, not replace, the relationship that exists between a pet owner/site visitor and his/her local veterinarian(s). Before you use any of the information provided in the site, you should seek the advice of a qualified professional.
In the spirit of full disclosure, we wanted to let you know that we proudly support this website through advertising and affiliate marketing. In other words, when you click on a link that takes you outside of this website, we often earn a small commission. These small commissions allow us to keep the site up and running and to continue offering it completely free of charge to you. Rest assured that all content, recommendations and advice are created before, and are independent of, any sponsorship or affiliate relationship.
Click here
for more info.