Dog Hair Loss & Weight Loss Out of Nowhere
by Holly
(Chadron, Nebraska)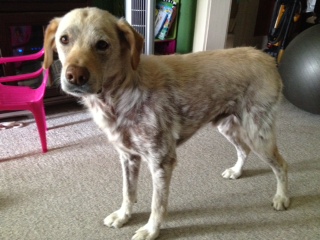 Standing
This is my dog Isack. He recently began to lose hair. It is mostly on his face, underbelly, and legs. He does have some scaly spots up by his neck. At first attributed that to him shedding his winter coat.


Isack is 8 years old. He is mixed breed. We think lab and chow, but not exactly for sure.
We took him to the vet about two weeks ago because his hair loss was becoming extreme as well as noticed some weight loss. She took some skin scrapes but those came back negative.
She treated him with an oral as well as something she put on his back for ménage as we have a one year old and wanted to be safe. She also advised giving his Benadryl for itching.
We went back Tuesday for the second dose of the stuff she put on his coat. He lost 4 lbs in those two weeks (about 9 lbs in total from his last checkup) even though he seems to be eating and drinking more. That goes in spurts though.
He has always struggled with his weight. It was not until he was neutered that he was able to some significant weight on. He is normally between 50 and 58 lbs.
The vet said he has lost almost 10% of his weight now. She took blood and the results showed everything was in the normal range. She specifically mentioned his liver counts were 61 but said dogs in his age range can be around 100. (When he was a puppy he was given strong medicine (by another vet who misdiagnosed ring worm) that caused him to lose his hair around his elbow. He did not grow that hair back which is about the size of a softball.) She stated that his white blood count was up a little, but said that could be due to his skin condition.
She has not done skin grafts yet. She wanted to look at maybe a Zinc deficiency first.
We have not changed anything in his diet recently. Although she has suggested we go back to puppy food for the extra protein as he was on IAMS mature adult for about the last year or so.
My question is: Do you have any suggestions as to what this might be so that we have a direction to go in?
Many thanks and I look forward to your response.
Want to ask our veterinarians a question but haven't subscribed to My Online Vet? Click here to learn how or click here to go back to the Ask a Vet Online Library of questions.
Want monthly "News You Can Use" and important Organic Pet Digest new content updates? Click here to sign up for our FREE Dog Care Monthly newsletter.
Do you believe in holistic pet care? If so, please tell your friends about us with a Facebook like, Google +1 or via Twitter, Pinterest, email or good old fashioned word of mouth. Thank you for supporting our efforts!
For additional research, search for your topic...
Also see...
Disclaimers: The information contained in this web site is provided for general informational purposes only. It is not intended as nor should be relied upon as medical advice. Rather, it is designed to support, not replace, the relationship that exists between a pet owner/site visitor and his/her local veterinarian(s). Before you use any of the information provided in the site, you should seek the advice of a qualified professional.
In the spirit of full disclosure, we wanted to let you know that we proudly support this website through advertising and affiliate marketing. In other words, when you click on a link that takes you outside of this website, we often earn a small commission. These small commissions allow us to keep the site up and running and to continue offering it completely free of charge to you. Rest assured that all content, recommendations and advice are created before, and are independent of, any sponsorship or affiliate relationship.
Click here
for more info.