Dog Grooming Video Reviews - Top 3
On the fence about purchasing a dog grooming video?
We've reviewed several options, and as long as you buy the right one, instructional videos can be extremely helpful for the first-time groomer. Even the experienced groomer looking to learn a new style can benefit.
We learn best by watching, listening and actually doing. If you are the same, we've found the Super Styling Sessions DVD's to be the best videos by far…
Super Styling Sessions Dog Grooming Video - Scissor/Thin
Sue Zecco and Jay Scruggs, two professional dog groomers and renowned instructors, are the creators of an excellent series of specialized grooming videos.
This particular DVD focuses on the correct use of scissors for both trimming and thinning techniques. It is interactive, so you will have plenty of chances to practice along with the experts.
Other key lessons taught in this DVD are:
Holding shears, body positioning and caring for grooming tools
Time-saving tips
Quick and stylish everyday pet trims
New product demos
Techniques and short cuts
This DVD is 1 hour in length and the price is $59.95.
Super Styling Sessions Dog Grooming Video - Bather/Brusher
This DVD focuses on the incredibly important steps of bathing and brushing the dog. Many people make the mistake of thinking these are the easiest of the grooming steps they will need to learn.
But getting that finished, polished look is only possible if you know the tricks and understand the importance of these steps.
A few key things you will learn in the Bather/Brusher DVD are: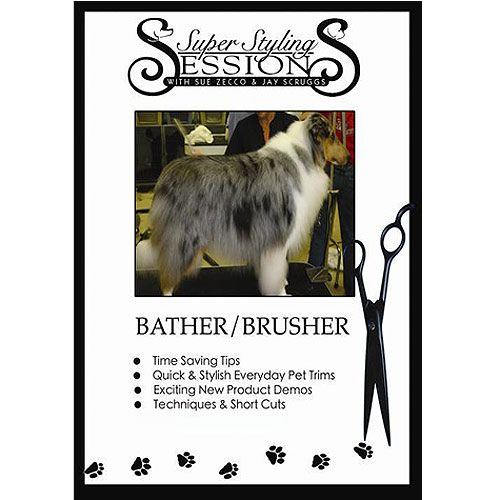 Ear cleaning, nail trimming and pad cleaning
Specific bathing and brushing techniques
Blow drying techniques in detail pertaining to specific breeds
Complete undercoat removal and dematting
How to use force dryers and standing dryers
This DVD is approximately 2 hours in length and the price is $59.95.
Super Styling Sessions Dog Grooming Video - Mix/Miscellaneous Breeds
Last but not least, this DVD covers how to groom many types of mixed breed dogs that don't generally require any specific style. It will help you figure out what cut will look the best on your dog based on factors like their size, shape and fur texture.
If your dog's breed requires a specific cut, check out the section below instead.

A few other key things you will learn in this DVD are:

Instructions on how to achieve 3 different mixed breed style trims
3 different head trims and styles
Help picking different body styles and head trims for your dog
This DVD is approximately 1 hour and 50 minutes in length and the price is $59.95.
Super Styling Sessions - Dog Grooming Videos for Specific Breeds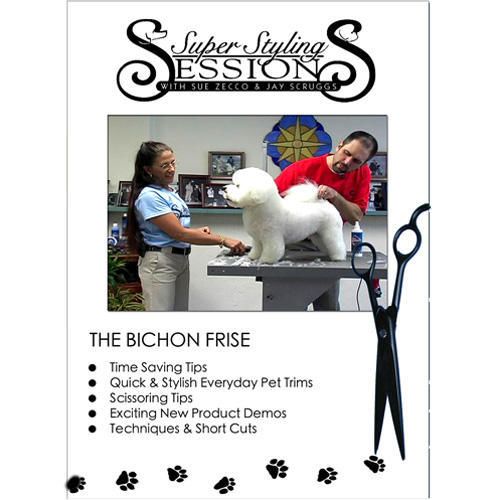 Are you interested in learning grooming styles for a particular dog breed? If so, check below to see if the Super Styling Sessions series has a DVD for your specific breed…
Bichon Frise
Cocker Spaniel
Golden Retriever
Maltese
Mini Schnauzer
Poodle
Shih Tzu
Welch Terrier
Westie
Yorkie
Do you believe in holistic pet care? If so, please tell your friends about us with a Facebook like, Google +1 or via Twitter, Pinterest, email or good old fashioned word of mouth. Thank you for supporting our efforts!
New! Comments
Have your say about what you just read! Leave a comment in the box below.
For additional research, search for your topic...
Disclaimers: The information contained in this web site is provided for general informational purposes only. It is not intended as nor should be relied upon as medical advice. Rather, it is designed to support, not replace, the relationship that exists between a pet owner/site visitor and his/her local veterinarian(s). Before you use any of the information provided in the site, you should seek the advice of a qualified professional.
In the spirit of full disclosure, we wanted to let you know that we proudly support this website through advertising and affiliate marketing. In other words, when you click on a link that takes you outside of this website, we often earn a small commission. These small commissions allow us to keep the site up and running and to continue offering it completely free of charge to you. Rest assured that all content, recommendations and advice are created before, and are independent of, any sponsorship or affiliate relationship.
Click here
for more info.