4 Essential Dog Grooming Kits & Links to Other Reviews
Dog grooming kits are an easy way to prepare for your first at-home grooming experience. And for the grooming experts out there, they make shopping for grooming supplies simple.
Click below for reviews of the top four grooming kits:
Additional Dog Grooming Review Pages
If you are indeed new to the idea of grooming your dog in the comfort of your own home, then you're likely quite nervous about getting it right. But, with a little practice and the right instruction you and your dog will be saving money and spending fun quality time together.
If you're a unsure about how best to groom your dog, we have written a great tutorial for grooming your dog at home with plenty of tips along with things to avoid.
GripSoft Grooming Tools
This dog grooming kit comes with all different types of brushes, clippers and combs designed with a unique Grip Soft technology making them super easy to use. Their site allows you to read about each tool and select only the ones that you will need to groom your dog.
By using high quality brushes and clippers you will find that the grooming process goes much smoother. If you use dull clippers, for example, you could end up hurting your dog or even yourself!
Also, for those of you with a furry and curly dog like ours, you have likely realized that the right brush can help to keep your dog matte free. We learned that lesson the hard way with our young puppy and the wrong brush. No matter how often we brushed her, she still got matted! That is, until our groomer handed us the secret weapon, and now her fur is always shiny and healthy.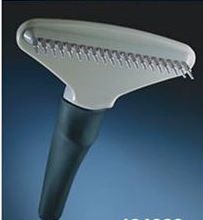 The GripSoft Grooming Tools product qualities include:
Made with a rubber grip designed by a surgeon and guaranteed to be comfortable
Manufactured from the highest quality materials
Kit includes brushes, combs, rakes, clippers and nail trimmers
Comes with instructions on how to use each tool correctly
Over 25 tools to choose from in order to create the ideal grooming kit for your individual dog.
Prices start at $7.99 per tool
Click here to purchase the GripSoft Grooming Tools.
Chronic Ear Infection Kit
Grooming is not complete until the dog's ears are clean and healthy! By incorporating ear cleaning into your dog's grooming regimen, you can prevent future ear infections.
Dog ear infections are one of the most common dog health issues and are especially prevalent in dogs with floppy ears. This is because the inner ear is closed off to air and has the perfect dark, damp conditions to grow bacteria.
Whether your pet currently suffers from chronic ear infections or has seemingly healthy ears, dog ear cleaning is an essential part of any grooming routine.
This Chronic Ear Infection Kit, at a cost of around $46.00, includes:
Salmon Oil for overall skin and coat health
Super daily vitamins
Ear care with tea tree oil
Click here to purchase the ear care kit.
Triple Pet EZDOG Pet Dental Kit
Do you like getting kisses from your dog? If you answered no, it may be because their breath is not exactly minty fresh, and the truth is that could be your fault!
Dog dental hygiene is one of the most commonly ignored parts of a regular grooming routine. What would your breath smell like if you never brushed your teeth? Yes… nasty thought, but the health implications would be the more serious issue.
Things like gum disease, cavities and plaque build-up are all issues that your dog deals with inside that mouth of theirs. Help them achieve their award-winning smile and kissable breath by implementing a strict dental health routine.
A good dental kit will start you on the right track, and the Triple Pet EZDOG Pet Dental Kit is the best we've found. It includes...
A unique and effective pet toothbrush with three independent heads along with top and side bristles for all around cleaning. It also massages and stimulates your dog's gums.
Toothpaste with a natural, sugar-free vanilla flavor that dogs love, along with a tartar control formula and tea tree oil for healthy gums.
The price is around $13.00.
Click here to purchase the Triple Pet EZDOG Pet Dental Kit.
Pal Dog Organic Puppy System
The Pal Dog Organic Puppy System contains the perfect combination of herbal organic bath essentials including a shampoo, conditioner/cream rinse, and a daily freshening spray
These organic washes will make your dog smell so fresh and clean, plus they are totally safe for use on even the more sensitive areas. The daily freshening spray is a great way to keep your dog smelling fresh between baths.
Organic Puppy System details include:
Made from organic herbals and human grade ingredients
Perfect for dog with sensitive skin
Do NOT contain SLS, DEA or Parabens
Pal Dog products are earth-friendly and biodegradable
All products made in the USA
Price for the kit is $35.99
Click here to purchase the Pal Dog Organic Puppy System.
Do you believe in holistic pet care? If so, please tell your friends about us with a Facebook like, Google +1 or via Twitter, Pinterest, email or good old fashioned word of mouth. Thank you for supporting our efforts!
New! Comments
Have your say about what you just read! Leave a comment in the box below.
For additional research, search for your topic...
Disclaimers: The information contained in this web site is provided for general informational purposes only. It is not intended as nor should be relied upon as medical advice. Rather, it is designed to support, not replace, the relationship that exists between a pet owner/site visitor and his/her local veterinarian(s). Before you use any of the information provided in the site, you should seek the advice of a qualified professional.
In the spirit of full disclosure, we wanted to let you know that we proudly support this website through advertising and affiliate marketing. In other words, when you click on a link that takes you outside of this website, we often earn a small commission. These small commissions allow us to keep the site up and running and to continue offering it completely free of charge to you. Rest assured that all content, recommendations and advice are created before, and are independent of, any sponsorship or affiliate relationship.
Click here
for more info.