Dog Grooming Dryers - The 2 Most Effective
Did you know that using a regular hair dryer instead of special dog grooming dryers could cause dry skin, scalp irritation and skin sores?
In addition to the health issues, drying your dog with a human dryer will also take about twice as long.
These are the best two dryers we've found depending on your dog…
Quick Draw Dog Grooming Dryers
The Metro Air Force Quick Draw Dryer is lightweight, compact, hand-held and has a super powerful airflow.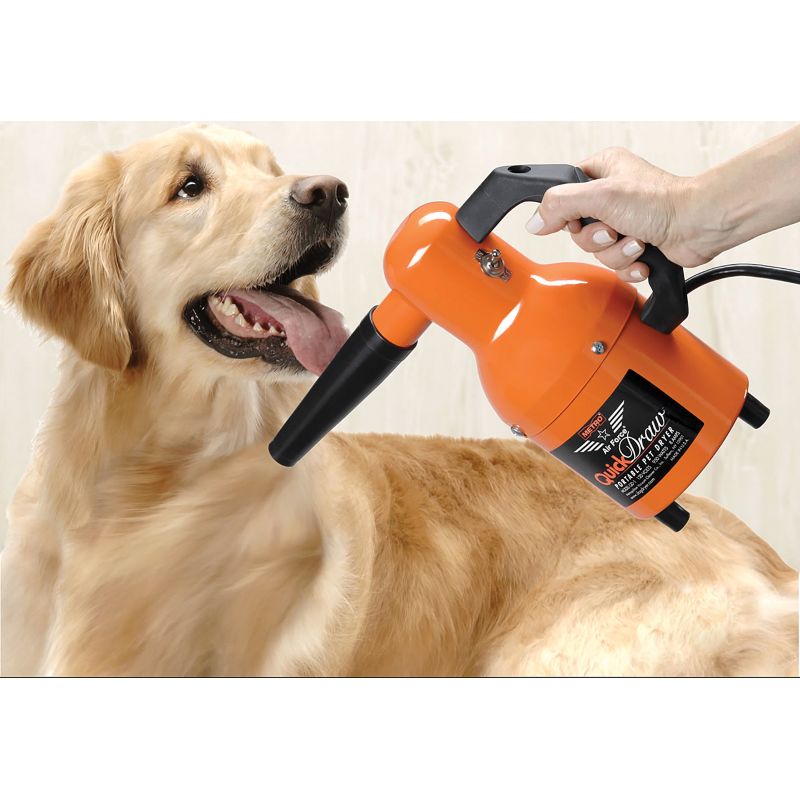 We even tried it on our neighbor's Siberian Husky and found it to work extremely well. It dried the fur from the base of the follicle to the top and didn't cause the coat to become brittle or overly dry.
Product qualities include…
Has a 6-foot hose with air-flow control, air concentrator, air flare, shoulder strap and mounting hook
Weighs just over 3 lbs and has 950 watts of drying power
Dryer uses the friction of the motor to produce a light heat, just 25-30 degrees above ambient
Price is $99
Click here to purchase the Metro Air Force Quick Draw Dryer.

Andis QuietAire Iconic/Ceramic Dog Grooming Dryers
This one looks like a traditional-style human hair dryer, but it's made especially for dogs' sensitive skin and fur.

The best thing about the Andis QuietAire Pet Dryer is the whisper quiet airflow. Many dogs are frightened by loud noises like the vacuum cleaner or the garbage truck, and those dogs are never going to let a loud hair dryer come anywhere near them!
This dryer did not dry as quickly and did not feel as "solid" as the Quick Draw dryer above, but its shortcomings are worth it if your dog hates noise. At $29.99 it's also much easier on the pocketbook.
Additional product qualities include...
1875 watts of drying power
Four heat setting and three air speeds
Comes with a stand that adjusts to 5 different positions to assist during drying
Includes a removable air intake filter for easy cleaning and a long life
Click here to purchase the Andis QuietAire Pet Dryer.
Do you believe in holistic pet care? If so, please tell your friends about us with a Facebook like, Google +1 or via Twitter, Pinterest, email or good old fashioned word of mouth. Thank you for supporting our efforts!
New! Comments
Have your say about what you just read! Leave a comment in the box below.
For additional research, search for your topic...
Also see...
Disclaimers: The information contained in this web site is provided for general informational purposes only. It is not intended as nor should be relied upon as medical advice. Rather, it is designed to support, not replace, the relationship that exists between a pet owner/site visitor and his/her local veterinarian(s). Before you use any of the information provided in the site, you should seek the advice of a qualified professional.
In the spirit of full disclosure, we wanted to let you know that we proudly support this website through advertising and affiliate marketing. In other words, when you click on a link that takes you outside of this website, we often earn a small commission. These small commissions allow us to keep the site up and running and to continue offering it completely free of charge to you. Rest assured that all content, recommendations and advice are created before, and are independent of, any sponsorship or affiliate relationship.
Click here
for more info.