Dog Grooming Clippers Reviewed
Purchasing a pair of high quality dog grooming clippers is one of the first steps towards preparing your at-home grooming salon.
The dog grooming clippers recommended on this page will put you on the right track, and each of them come with a moneyback guarantee...
Before we get to our recommendations, understand that not all clippers are created equal. Skimping on them can mean an accident that causes harm to either you or your dog. Cheap clippers are often times not sharp enough and can scrape your dog's skin or overheat and burn your hand.
Also, purchasing a pair of dog grooming clippers that come with a detailed instruction manual is a very smart choice.
Once you've got the grooming materials you need, our Dog Grooming Instructions page will show you how to groom your dog like a pro in the comfort of your own home. We provide some step-by-step instructions on grooming your dog at home along with helpful tips and things to avoid.
Quick Note: The price of a pair of high quality clippers can be quite high in many people's opinion, but remember... you get what you pay for in quality and safety.
Plus, don't forget what you will save by grooming your dog at home… two trips to the grooming salon and you would have already paid for an excellent pair of clippers!
Wahl Moser Arco SE Platinum Cordless Clipper - Our Top Pick
The Wahl Moser Arco SE is an excellent choice for first time users and professionals alike. These clippers will cut through any type of coarse, dirty, matted or extremely fine hair. In our opinion, this is the best clipper out there!
The problem with most clippers is that they are unreliable and typically not precise or strong enough. You don't want to have to run back and forth over the same patch of fur because it can be painful for your dog and tiring for you.
The Wahl Moser Arco SE will ensure a precise cut or trim the first time you run it over your dog's fur. The fur doesn't get stuck in the blades like some other clippers, and it will not overheat.
Plus, it's cordless!
The product qualities of these clippers include:
Runs on a 45 minute battery pack (comes with one extra battery pack)
Produces a 1-3/4" top quality professional cut
Easy to clean
Detachable blade adjusts to five cutting lengths
Kit includes 2 replacement blades, 4 attachment combs and a charging stand
Additional blades available for purchase
Price of this clipper kit is $119.99
Click here to purchase the Wahl Moser Arco SE Cordless Clipper Set.
Wahl Pocket Pro Trimmer
The Wahl Pocket Pro Trimmer is the ideal clipper for use around your dog's eyes, ears, nose and rear.
This is a "pocket sized" trimmer and therefore not suitable for use on your dog's body. Also, the strength of this clipper is much less than a full size clipper, but it is perfect for trimming up the sensitive areas of your dog.
The Wahl Pro Trimmer's product qualities include
Trimmer available in assorted colors
Runs on AA batteries
Comes with two trimming attachments, a cleaning brush, oil and a blade guard
Instructions on how to operate the clippers are included in the kit
A 1 year warranty comes with the purchase
Extra blades are available for purchase
The price of the trimmer is $16.00
Click here to purchase the Wahl Pocket Pro Trimmer.
Andis ProPet Home Clipper Kit
If you're looking for a less expensive way to get started at home, the Andis ProPet Home Clipper Kit is a great option and can handle many dog grooming needs. While it's not as powerful as the Wahl clippers and is not cordless, we are fans of the handy carrying case and its straightforward operation.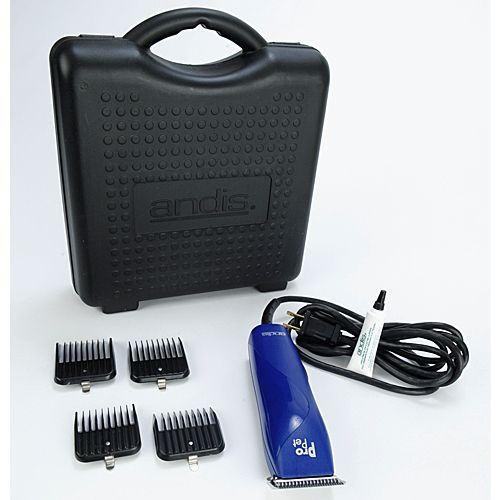 The Andis ProPet Home Clipper Kit's product qualities include:
Clippers use a powerful rotary motor that can handle all types of fur 6 ¾" clippers
10 ultra edge blades
4 attachment combs
Oil, case and operating instructions
Clipper operates from an electrical cord
Price is $54.99
Click here to purchase the Andis ProPet Home Clipper Kit.
Oster Blade Wash
The purchase of a high quality clipper blade cleaner is an essential part of your at home dog grooming collection.
Many people forget that they have to keep the blades on a clipper clean in order to keep it running well and efficiently. We recommend the Oster Blade Wash because it's trusted by professional groomers and is backed by a well established company.
One bottle of blade wash will last you a good amount of time and at $8.99 per bottle, it's a great investment in your newly purchased clippers.
Click here to purchase Oster's Blade Wash.
Do you believe in holistic pet care? If so, please tell your friends about us with a Facebook like, Google +1 or via Twitter, Pinterest, email or good old fashioned word of mouth. Thank you for supporting our efforts!
New! Comments
Have your say about what you just read! Leave a comment in the box below.
For additional research, search for your topic...
Disclaimers: The information contained in this web site is provided for general informational purposes only. It is not intended as nor should be relied upon as medical advice. Rather, it is designed to support, not replace, the relationship that exists between a pet owner/site visitor and his/her local veterinarian(s). Before you use any of the information provided in the site, you should seek the advice of a qualified professional.
In the spirit of full disclosure, we wanted to let you know that we proudly support this website through advertising and affiliate marketing. In other words, when you click on a link that takes you outside of this website, we often earn a small commission. These small commissions allow us to keep the site up and running and to continue offering it completely free of charge to you. Rest assured that all content, recommendations and advice are created before, and are independent of, any sponsorship or affiliate relationship.
Click here
for more info.