Dog Food Storage Containers Reviewed
By utilizing dog food storage containers in your home or on the go, you can be sure that your dog's food will stay fresh longer than it would in the store-bought bag.
In addition to losing freshness, keeping your dog's food in the bag can be a real a pain - especially when the bag decides to rip while you're pouring, leaving you with a real mess.
Good dog food storage containers save time (easier to open, close and pour), money (avoid the spills and longer food freshness allows you to buy in bulk), and keep the food healthier and make it taste a heck-of-a-lot better for longer. Here are the ones that we like...
Store-N-Feed™
Here's a revolutionary dog feeding and storage system called Store-N-Feed™ that is sure to make your life a little bit easier.
This #1 selling dog feeder offers healthy, comfortable feeding positions and it allows you to adjust the height of the bowls from 8" – 12". By adjusting the feeding position to perfectly fit your dog's height, you can minimize digestion and bloating problems and also minimize strain on joints and muscles.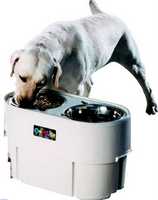 Here's the best part…you can store up to 20lbs of your dog's food right below the dog bowls. It can't get much more convenient than that!
The Store-N-Feed™ is:
Available in one, adjustable size
Comes with two stainless steel bowls
Stores up to 20lbs of food or dog toys
Portable and easy for pet friendly travel
Only available in the USA
Price is $39.99
Dock Dogs Store and Feed To-Go
If you have been searching for the perfect pet friendly travel bag for your dog, then you have come across one of the best!
This bag not only provides your dog with a stable place to eat and drink while on the run, it also holds up to 20 lbs of dog food, plus provides ample room for toys, treats, leashes and even people stuff!
The quality of this Docks Dog bag is un-paralleled and you are sure to enjoy it just as much as we have. After multiple uses to the beach and mountains, it still looks brand new.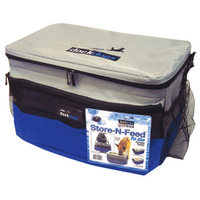 The Docks Dog Store and Feed To-Go is:
Convenient and easy to tote around with shoulder strap or hand straps.
Provides your dog with a raised area to eat and drink
Comes with two stainless steel bowls
Machine washable and fabric is easily wiped clean
Price is $57.99
Stainless Steel Food Scoop
...and your dog food storage container is not complete without a good dog food scoop. We're a fan of this one from dogtoys.com.
Benefits of the stainless steel scoop include:
Machine washable
½ and 1 cup measurements
High quality and sturdy
Stainless steel is very hygienic and will last much longer than plastic scoops.
Do you believe in holistic pet care? If so, please tell your friends about us with a Facebook like, Google +1 or via Twitter, Pinterest, email or good old fashioned word of mouth. Thank you for supporting our efforts!
New! Comments
Have your say about what you just read! Leave a comment in the box below.
For additional research, search for your topic...
Disclaimers: The information contained in this web site is provided for general informational purposes only. It is not intended as nor should be relied upon as medical advice. Rather, it is designed to support, not replace, the relationship that exists between a pet owner/site visitor and his/her local veterinarian(s). Before you use any of the information provided in the site, you should seek the advice of a qualified professional.
In the spirit of full disclosure, we wanted to let you know that we proudly support this website through advertising and affiliate marketing. In other words, when you click on a link that takes you outside of this website, we often earn a small commission. These small commissions allow us to keep the site up and running and to continue offering it completely free of charge to you. Rest assured that all content, recommendations and advice are created before, and are independent of, any sponsorship or affiliate relationship.
Click here
for more info.